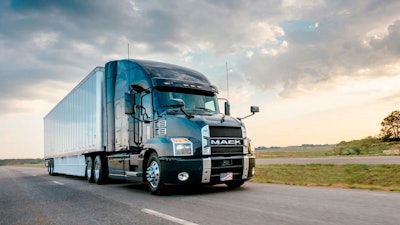 Mack Trucks announced it will offer a factory-installed electric auxiliary power unit (eAPU) for its 70-in. Mack Anthem sleeper models. The Idle Free Series 5000 eAPU offers customers increased air-cooling capacity, reduced idling and simplified maintenance for improved total cost of ownership.
Mack made the announcement during the American Trucking Associations Management Conference and Exhibition Oct. 23-26 at the Music Center in Nashville, Tenn.
"Reduced idle time means increased fuel savings and engine life for Mack customers, along with decreased engine maintenance costs," says Stu Russoli, Mack Trucks highway product manager. "The Idle Free eAPU also improves driver comfort because of its high-performing electric cooling capacity, which runs more quietly than diesel-powered APUs and can help drivers have uninterrupted rest time."
The Idle Free eAPU features a 10,000 BTU compressor and three-speed evaporator fan to direct the airflow to the sleeper without duct work, allowing the driver to easily adjust temperature and fan speed from the control panel located on the evaporator in the bunk.
"The addition of the Idle Free eAPU to the 70-in. Mack Anthem sleeper maximizes efficiency in an already very fuel-efficient vehicle," Russoli says. "The reduced idling also meets anti-idling laws and contributes to decreased emissions, which is better for the environment."
The system can be retrofitted with an automatic start-stop kit which allows the truck to automatically idle to recharge the batteries, turning the engine off when they are fully charged, the company says. 
The Idle Free eAPU option is installed at Lehigh Valley Operations, Macungie, Penn., where all Mack Class 8 vehicles for North America and export are assembled.