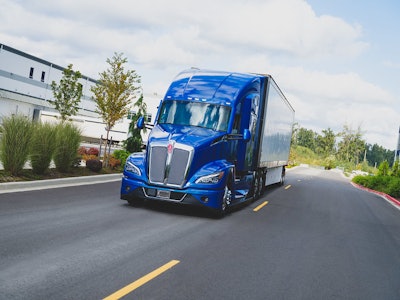 Kenworth will add the latest iteration of its advanced driver assistance system (ADAS) to the T680.
Enhancements were part of the Bendix Fusion system and feature adaptive cruise control stop and auto go. When the truck follows a lead vehicle in cruise control, the system will apply the brakes to maintain a safe following distance or even stop the truck completely and hold it in place.
[RELATED: ADAS systems encompass all kinds of systems; that's good for safety, may be tough for a diagnosis]
When the truck can move forward again, it will automatically accelerate the vehicle's set speed without driver intervention and maintain its safe distance once again. If the truck leaves the road, the highway departure braking to zero feature will provide an audible chime and brake to reduce vehicle speed once it begins to leave the road. It can even reduce the truck's speed to a full stop until the driver re-engages.
"Driver assistance systems play a key role in making commercial trucks easier and less fatiguing to operate," says Jim Walenczak, Kenworth's assistant general manager for sales and marketing. "These new features will complement safe driving behavior and provide drivers more convenience operating in cruise control."
The suite of technology includes features such as collision mitigation, lane departure warning and side object detection. Collision mitigation is designed to alert the driver to nearby vehicles and objects so that pre-emptive braking action can be taken. Lane departure warnings provide continual monitoring of the truck's location to prevent lane drift. Side object detection gives the driver audible and visual notifications to help with safe navigation and lane changes.
No commercial vehicle safety technology replaces a skilled, alert driver exercising safe driving techniques and proactive, comprehensive driving training, Kenworth says. Responsibility for the safe operation of the vehicle remains with the driver at all times.