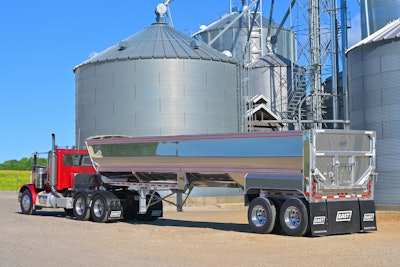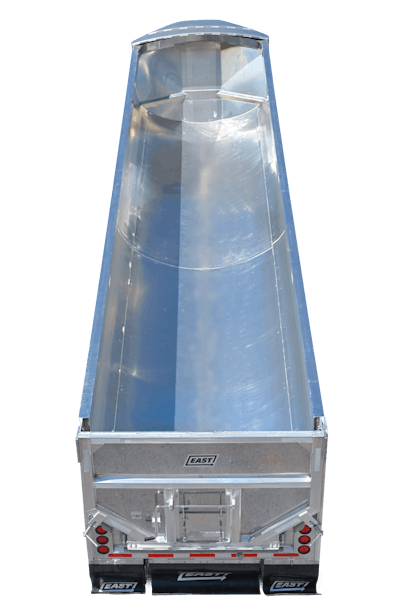 East Manufacturing launched its new Round Bottom Trailer, Horizon, at the Technology and Maintenance Council's 2022 Annual Meeting & Transportation Technology Exhibition in Orlando Sunday.
Horizon maximizes payload by incorporating lighter weight components and a new round-bottom design gives the trailer a lower center of gravity, providing greater dump stability and better cornering. The round-bottom shape allows it to empty cleaner and faster than traditional square-bottom trailers, and Horizon has a greater payload capacity when compared to a traditional half-round trailer.
Premium-grade aluminum floors are built with up to 33% more yield strength than industry standards.
Its base weight is 9,860 pounds (without options, a liner or tarp system), making it lighter weight when compared to the East Hybrid dump trailer. It's 102 inches wide and is available in lengths up to 40-feet long. For weight-sensitive operations, its sidewall heights include 52-, 56- or 60-inch for 43.4-, 46.8- and 51-cubic-yard capacity, respectively.
The aerodynamically-styled bulkhead aids air flow to help improve fuel efficiency while its large radius bracing helps to distribute loads and an external doghouse connects to an under support system of U-shaped channels fastened and gusseted at critical torsion points. Stress is transmitted to neutral areas of the sidewalls, virtually eliminating stress cracks. The externally-mounted hoist is easier to maintain.
Lightweight/long-life upper coupler has replaceable stainless steel saddle receiver assembly bolted into a light-weight aluminum sub-structure for reduced tare weight and maximum durability. While the aerodynamically-designed fenders protect the trailer from road debris and provide a nicely finished look.
Horizon is expected to be available for order later this year.