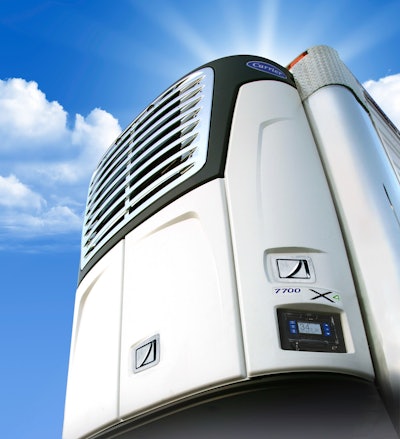 Carrier Transicold announced this week its new X4 7700 trailer refrigeration unit is now available through the company's North America dealer network.
The announcement was made during ATA's Technology & Maintenance Council (TMC) Annual Meeting and Expo in Orlando.
"In full production at our world-class manufacturing facility in Athens, Georgia, the new premium performance X4 7700 single-temperature unit builds on the X4 platform's decade-long reputation for high capacity and rugged, dependable service," says Bill Maddox, senior manager of product management, Truck Trailer Americas, Carrier Transicold. "Continuing the tradition of reliable design and simply smarter engineering, the X4 7700 unit offers a 96% reduction in particulate emissions and double-digit gains in fuel efficiency compared to standard X4 models."
According to Carrier Transicold, the new unit employs an advanced version of the smart engine used throughout Carrier Transicold's existing trailer platforms.
The company says benefits of the new unit include:
Enhanced compliance – Under current regulations, the X4 7700 provides lifetime compliance with the California Air Resources Board's (CARB) stricter rules for trailer refrigeration systems.
Significantly better fuel economy – The advanced engine features commonrail fuel injection for optimized fuel delivery that reduces fuel consumption by 5 to 10%. The new third speed, called "eco speed," automatically decreases engine RPMs during intervals where conditions permit, significantly improving operating efficiency compared to normal low-speed operation for even more fuel savings. Combined, these performance enhancements demonstrated 20 to 25% average fuel savings, relative to standard X4 units, for premium performance X4 7700 units tested by over-the-road fleets under a variety of operating conditions during the summer of 2022.
Greater sustainability – The unit uses R-452A refrigerant with a global warming potential 45% lower than that of the traditional transport refrigeration unit refrigerant, R-404A. The efficient common rail fuel system and a diesel oxidation catalyst push particulate, hydrocarbon and NOx emissions to new lows, and the unit is the most environmentally responsible choice in the X4 Series for fleets seeking sustainable options.
Lighter weight – At 1,690 pounds, the X4 7700 weighs about 10% less than its competition.
Highest capacity – As with its predecessor in the X4 Series, the X4 7700 achieves the high industry benchmark of 68,000 BTU/h at a setpoint of 35 degrees Fahrenheit under certification conditions of the Air-Conditioning, Heating & Refrigeration Institute.
"The X4 7700 provides more BTUs of cooling per engine RPM than competitive units, meaning competitive units must run harder than an X4 unit to achieve similar results," Maddox says.
All X4 7700 units are equipped with Carrier Transicold's industry-leading Lynx Fleet telematics solution for remote monitoring of temperatures, location, movement and system operating performance. And to help maintain the charge of the battery supporting the unit and its telematics system, Carrier Transicold now also offers its TRU-Mount solar panel as a factory-installed option, the company says.