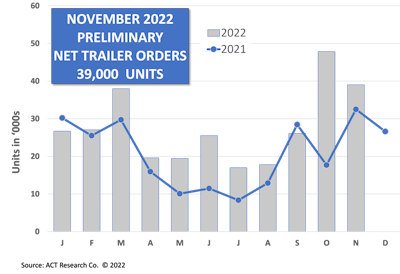 The trailer order surge that began in October continued last month.
ACT Research reported preliminary trailer orders of 39,000 units last month, down just 17 percent from October's incredible high, says Jennifer McNealy, director, CV market research and publications.
"While down from October, orders were up 22 percent compared to the same month last year," says McNealy. "Nearly as soon as a build slot is available, there is a fleet ready to fill it with an order. Demand remains strong. With backlog-to-build ratios near the 7.5-month mark, on average, fleets needing trailers are staying the course."
McNealy adds the backlog will likely extend when final November numbers are released.
"Using preliminary November orders and the corresponding OEM build plans from the November State of the Industry: U.S. Trailers report (October data) for guidance, the trailer backlog should increase by around 13,500 units when complete November data are released," she says. "That said, with orders being preliminary and the build numbers projections, there will be some variability in reported backlogs when final data are collected."