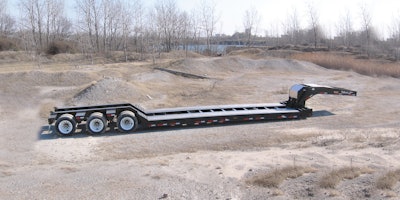 Talbert's non-ground bearing hydraulic detachable gooseneck trailer is 75 years old.
"Safety is the hallmark of our innovative trailer designs," says Troy Geisler, Talbert's vice president of sales and marketing. "Austin Talbert designed the first gooseneck trailer to address the troubling number of injuries and deaths occurring when loading and unloading equipment. Talbert has always been on the leading edge of safe, durable trailer designs."
Before Talbert's design, trailers would sit upwards of 50 inches off the ground and load in the rear. That made the loading and unloading angle so steep that a tipping point could be reached quickly and without warning. The hydraulic tail series decks can be lowered to ground height or raised to meet a shipping dock for safe loading.
In 1970, Talbert launched the Hydroneck, a customized solution for balancing weight distribution without having to rely on preset weight or height limits. The Hydroneck uses shims to balance and distribute each individual load. Additionally, the ratchet neck design features safety pins that secure the gooseneck a preset heights to make loading and unloading easier. Preset heights are customizable to the operator's needs.
Talbert designed and patented the mechanical removable gooseneck trailer in 1989. These trailers are more lightweight than their hydraulic counterparts and don't require hydraulics to position them. Typically used for double-drop trailers, mechanical gooseneck trailers use front rollers and truck ramps to connect and disconnect the trailer from the truck.
"When it comes to our trailers, there's so much to consider outside the type of neck or trailer weight capacity," Geisler says. "That's why each trailer is built to the needs of the operator. Each trailer we build and each innovation we come up with focuses on balancing operators' needs when it comes to productivity and safety."