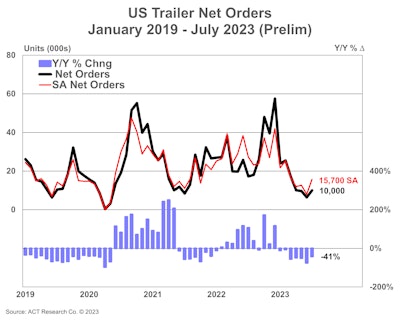 Preliminary trailer orders of 10,000 units in July were the weakest total of 2023 to date but did show a minor uptick, sequentially, ACT Research announced this week.
Seasonally adjusted the month's total rose to 15,700 units.
"Preliminary net orders, at 15,700 seasonally adjusted, rose more than 95% sequentially and were the highest seasonally adjusted level since March," says Jennifer McNealy, director, CV market research and publications at ACT Research. "With still high backlogs and 2024 orderboards only minimally open, it is still too soon for robust expectations."
McNealy says July's data showed cancellations remain higher than ideal but have moderated after three months of "broadly-based elevated cancellations."
She adds, "Backlogs remain healthy, if falling below year-ago levels for the first time this year in June. Demand may be softening, but it's far from falling off a cliff."