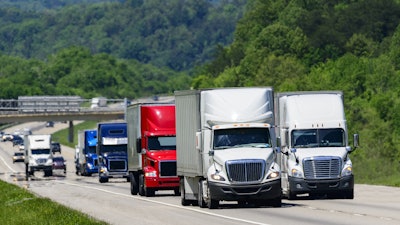 National Truck Protection Co. Inc. (NTP), introduces an expanded offering of equipment warranty programs for Class 2-7 commercial vehicles. 
The new warranties are available from NTP's National Truck Protection and Premium 2000+ brands and are available to used truck dealers and warranty reselling partners. NTP says the new programs are some of the most comprehensive commercial aftermarket warranties for light- and medium-duty vehicles available.
Geoff Stigler, NTP chief commercial officer, attributes booming growth in the final-mile sector and other light- and medium-duty markets as drivers of the new solutions. 
[RELATED: Nominate your business for our Successful Dealer Award]
"As the industry leader, we're always watching industry trends, analyzing our data, and listening to our dealer partners to make sure we're offering the best warranty programs to fit changing commercial trucking needs," he says. "The Class 2-7 commercial vehicle segment has grown tremendously in the past three years and it will continue to grow to meet the needs of local and regional businesses to handle the high demand for delivering goods and services. Our new warranties are an output of that insight as well as our learning from the very successful Class 8 product relaunch we did a couple years."
Stigler adds that while NTP has served the medium-duty space for many years, the company's new light-duty warranty programs are its first in that section of the market. NTP says its new light-duty programs add Class 2 vehicles, which share the same coverages and benefits as its Class 3-7 category. The company says the biggest overall change is all classes now have warranty coverages for both diesel and gas engines, with pricing that properly reflects the equipment differences and lifecycle repair costs. All programs also have added new lower annual mileage coverages (12,000 and 25,000 miles) to match usage profiles of light- and medium-duty truck owners and add covered parts that include knock and MAP sensors in the engine and the transmission's control module (TCM) and speed sensor. Additionally, a completely new and comprehensive emissions assembly package is included in the gas vehicles programs, the company says.
"The demand is high for warranty options that protect truck owners from having to pay high out of pocket costs for unexpected repairs," Stigler says. "We now have a complete offering of light- to medium-duty warranty options that fit pretty much every commercial truck sold by our dealer network."
"Our current medium-duty program is very good and we have thousands of customers. But our dealer partners and especially our customers know us as the industry leader, the warranty program innovators. So, we created an even better, more comprehensive program that is creating excitement with our existing dealers plus, new automotive dealers who sell a lot of Class 2-4 commercial vehicles," adds CEO Wade Bontrager "This segment of the trucking industry is an important part of our growing economy, and we will be there to help owner operators protect their asset and their business." 
Stigler adds early customer response to the new programs have been positive.
"Our existing dealer partners see our expanded and enhanced warranty offering as a perfect match to capture the increased demand for Class 2-7 trucks and the need for affordable warranty protection that gives them peace of mind to focus on running their businesses," he says.
[RELATED: National Truck Protection Co. supports college athlete's charitable program]
And NTP is already working to expand its dealer network to make the warranties available to a larger end-user base. Stigler says NTP is expanding its selling network to reach the commercial divisions of auto dealers. "Many of these locations sell a high volume of commercial vans, pickups, and small box trucks and have a need for a product like ours," he says. "When customers purchase a warranty it not only protects them from paying for repairs, but it also protects the reputation of the selling dealer."
The new programs break down as such: Class 2, Class 3-4, Class 5-7. Stigler says NTP's core powertrain program of engine, plus critical components (water pump, ECM, injectors, etc.) and aftertreatment are available. The most popular offering is the Value Pack Bundle that includes all three. He says each warranty program can be complemented by additional programs and services that include the Comfort Package, which covers the HVAC system, radiator and rotating electrical components, roadside assistance, and rental truck coverage. NTP also offers its very unique service, Rapid Repair Guarantee Plus, where the company will assist with customers loan payments in the event their repairs take more than 14 days to complete. Stigler says NTP also has warranty terms ranging from 12-48 months with annual mileages from 12,000-100,000.
"As vehicles have become more expensive and harder to locate, protecting them with a warranty has become more important," Stigler adds.