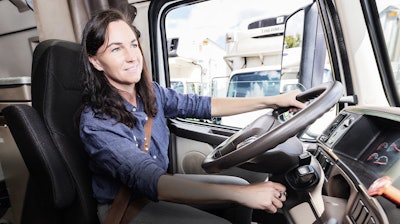 Ryder System has announced a discount program for women-owned businesses that are a member of the Women in Trucking Association (WIT), where for a limited time buyers can take advantage of a pre-owned commercial vehicle sales promotion of 5% off the purchase price.
Ryder says the sales event expands on the company's commitment to provide customers with the flexibility, choice, and control necessary for efficient fleet management.
"Ryder's main goal is to continuously enhance the customer experience by making it as seamless as possible to secure the best pre-owned commercial vehicle," says Eugene Tangney, vice president of global vehicle sales for Ryder. "Similar to Ryder's military discount for used vehicles, we wanted to honor women-owned business in the trucking industry while encouraging more women to get into trucking-related careers."
[RELATED: How inventory decision making is driving retail used truck success]
Ryder's process for purchasing a used vehicle is accessible and straightforward for customers, enabling potential buyers to browse vehicles online and purchase them remotely if they are not in close proximity to a Ryder Used Truck Center. Ryder staff is also available to consult potential buyers on the vehicle that is best suited for their businesses and provide a complete vehicle maintenance history report.
The company says buyers can make an appointment to visit a Ryder Used Truck Center in North America, or visit www.ryder.com/used-trucks to see hundreds of available vehicles and easily shop for the one that best fits their needs.
"Ryder's efforts to address the transportation industry's gender gap intentionally prioritizes the success of internal skills development and engagement programs that foster female leadership and mentorship opportunities," says Jennifer Hedrick, incoming president and CEO of WIT. "We appreciate the support Ryder provides to create a more gender diverse workforce in the trucking industry."
As a member active participant of WIT, Ryder also sponsors the scholarship program, which makes technical training and education more affordable for women who strive to grow a career in transportation.
Ryder offers customers pre-owned vehicle inventory for commercial vehicles in three categories: Ryder Certified, Ryder DOT Verified, and Ryder As-Is, consisting of day cabs, sleepers, reefers, box trucks, sprinters, cargo vans, and trailers. All Ryder Certified pre-owned trucks have had Ryder as a single previous owner where Ryder technicians have professionally maintained the vehicles. Preventative maintenance options can also be added on to a Ryder Certified or Ryder DOT Verified vehicle purchase, giving the customer peace of mind and access to Ryder's network of nearly 800 maintenance facilities.