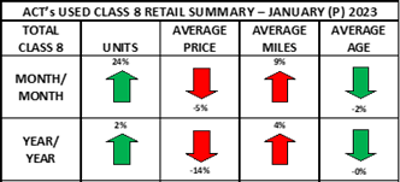 Preliminary used Class 8 retail volumes (same dealer sales) increased 24% from December to January, ACT Research reports in its most recent State of the Industry used truck report.
ACT Research Vice President Steve Tam says volume gain was facilitated "by a slew of new truck sales at the end of 2022. January used retail sales were even able to eke out a gain relative to January 2022. Though, we view January's performance as a bit of an outlier and still expect sales to be lower in 2023."
[RELATED: How inventory decision making is driving retail used truck success for dealers]
Pricing was down 5% month over month and 14% year over year. Mileage was up for both comparisons. Age was up from December but consistent with January 2022.
He says the average used truck price last month per ACT Research's data was just over $75,600. "Comparisons are expected to become increasingly negative," he adds.