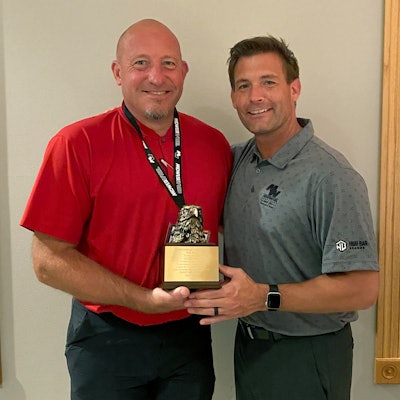 Grote's Garrett Engle was named the newest recipient of Midwest Wheel's Don Shoemaker/ Scott Wilson Annual Rep of the Year Award last week at the 43rd Midwest Wheel Companies Annual Sales Meeting.
The award was presented by Adam Clark, vice president of Sales & Operations, Midwest Wheel Companies, during a ceremony at the Legacy Golf Club in Norwalk, Iowa.
[RELATED: Grote introduces 4SEE smart trailer safety system]
Engle is a technical specialist with Grote Industries where he began his tenure in early 2020. He spent 32 years in the automotive industry and now has seven years of experience in the heavy-duty industry. Engle strives to consistently show value to his customers, operating with an "always do the right thing" mentality, which is unmistakably recognized by everyone at Midwest Wheel.
Engle and Grote Industries accepted this respected award with honor and the companies look forward to a long and successful partnership.
Judging for the annual award is conducted by Midwest Wheel's branch managers, sales professionals and product managers. Longtime Midwest Wheel Executive Vice President John Minor's vision for the Shoemaker Award continues with the honor being awarded on the basis of meeting a number of criteria including: proven loyalty, adherence to policies, exemplary professional conduct, demonstrated product/industry knowledge, professional selling skills and the consistent display of respect and courtesy throughout their business dealings.