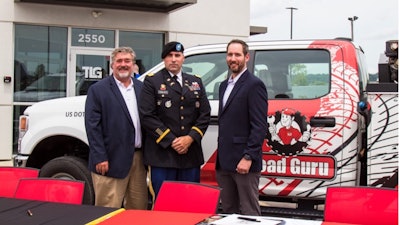 TLG Peterbilt became the newest member of the Partnership for Your Success (PaYS) program for the U.S. Army and the Columbus Army Recruiting Battalion last month.
A signing ceremony was conducted at LG Peterbilt – Cincinnati. The ceremony solidifies TLG Peterbilt's formal partnership and allows the company to begin granting guaranteed interviews for transitioning active duty, National Guard and reserve soldiers.
In attendance, representing TLG Peterbilt, were Nathan Conn, vice president of human resources; Mike Thurston, regional vice president; and Brad McDonald, Cincinnati general manager. Representing the Army were Columbus Recruiting Battalion Commander LTC Brett Gambacorta and Miami Valley Recruiting Company Commander CPT Jacqueline Donnelly.
"I believe there is no better organization for us to partner with than the U.S. Army. The talent that comes from the U.S. Army reflects the values that we believe are important at TLG, including commitment, loyalty and hard work," Conn said during the ceremony.
"We know that leaving the Army and entering the civilian workforce can be a challenging time for soldiers. We hope this partnership provides them with confidence and support as they transition into civilian career opportunities," Thurston said.
"Hiring veterans is more than an act of patriotism. The skills and experience gained in the military are invaluable to organizations like ours, where truck drivers and businesses are counting on us to ensure their trucks are on the road keeping America moving every day," he added.
TLG Peterbilt keeps fleets of reliable trucks on the road for our nation's supply chain and the PaYS team is extremely excited to welcome the company to the Army family and is more than confident that they will add value to the U.S. Army, the company says.
TLG Peterbilt and the trucking industry are proud supporters of the military and veteran community and are dedicated to providing job and career opportunities to those who are serving or have served in our nation's military. We look forward to welcoming more military veterans to the TLG Peterbilt family through the Army PaYS program, the company says.