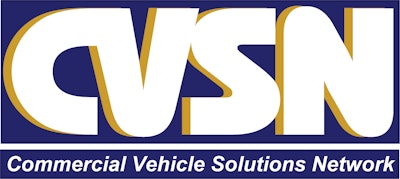 The board of directors of the Commercial Vehicle Solutions Network (CVSN) has selected Edward Kuo as its new executive director.
Kuo has over 25 years of experience in the heavy-duty aftermarket parts vertical focused primarily on industry-based solutions, implementation of new technologies and strategic leadership. Initially, Kuo will be focused on re-defining the value proposition CVSN can provide to its distributor and supplier members. He also will be working closely with the board to bring clarity and direction to the association's key objectives — government affairs, industry awareness, education and technology.
CVSN's board also would like to thank Angelo Volpe for his nearly 30 years of service to the organization. Volpe will remain on the CVSN staff until his retirement in June 2023.
"Edward's knowledge of the industry and experience with business transformation will propel CVSN as we evolve and define new avenues for delivering value to the commercial vehicle industry," says Nick Seidel, president of CVSN's board of directors. "He is the co-founder of GenNext, the industry's premier organization dedicated to educating, mentoring and recruiting the next generation of leaders, and is a perfect fit for the organization."
"It will be challenging to follow in the footsteps of an industry icon such as Angelo, but there are so many opportunities for CVSN to grow its footprint in the next few years," says Kuo. "I'm thrilled and honored to have the support of a very talented board of directors and we look forward to bringing more value through our many services."
Most recently, Kuo has served as Vice President of Technology at Hinton Transportation Investments, a collection of heavy duty divisions including New Life Transport Parts Center, Road Equipment Parts Center, Martec International, and Pace Transportation.
Volpe has been a leader in the independent aftermarket for nearly 30 years. He was instrumental in helping CVSN navigate the merger of CFS and NWRA in 2006. He also was involved with CVSN's participation at HDAW and was part of the team that negotiated CVSN becoming a co-owner of that event. More recently, Volpe has led the planning and execution of the annual CVSN Aftermarket Summit and the Distributor Training Expo (DTE).