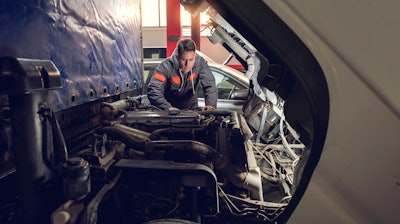 The technician shortage is not news. Dealers, distributors, repair garages and fleets have been struggling to find technicians for quite some time. And there is no indication that the shortage will get better anytime soon.
Part of the problem is that the general public does not have a positive view of the trucking industry nor of making a living as a truck technician.
In a September webinar, How To Hire and Retain Techs in Economic Uncertainty, presented by Fullbay, Jay Goninen, cofounder and president, WrenchWay, provided some tips that can service providers can use to find technicians and also keep them.
[RELATED: Download our 2022 State of Diesel Technicians report, sponsored by Shell Lubricants]
Build a pipeline of candidates: You can't wait until you need a tech to start looking for one. You need to be constantly promoting your business as a good place to work. Open your shop for class tours, hold open houses and talk with people who are studying to be techs to find out what they want from the workplace. A good place to start building the tech pipeline is to serve as a connector between high schools and tech schools. Goninen says this will result in "more interest in the repair industry, more students at tech schools and more qualified techs working in your shops."
Target passive candidates: During the webinar, Goninen and webinar host Chris O'Brien, Fullbay COO, said shops tend to target the 5 percent of technicians that are actively looking for work. They contend shops would be better served looking at what they call passive candidates — techs who are currently employed, are not actively looking, but who are available.
Use multiple avenues but don't just focus on hiring: There is no one right outlet for advertising for techs. Use job boards, social media outlets and employee referrals to cast a wide net. Make sure your marketing efforts are not just focused on hiring. Use your social media posts and other marketing efforts to showcase your shop. Of every 10 posts only one should be about hiring the rest should be focused on promoting your brand so technician candidates have a good idea of what it is like to work for you.
Keep it real: Video is a great way to reach potential candidates, but techs say the prefer videos to be "real" and not overly polished.
Partner with schools: It is important to build relationships with tech schools in your areas. Nothing is more frustrating for a tech school instructor than having a shop manager come to him close to graduation and ask for a referral to "the best techs." Those techs have already been taken by other shops that have been actively involved in the program by donated training aids or helping tech schools with their enrollment efforts. Goninen says it's a mistake for a shop to consider its relationship with a tech school as merely transactional.
Develop a strong onboarding process: Goninen and O'Brien agree many shops do not do a good job in the onboarding process once a tech is hired. You need to be intentional about your onboarding and realistic about your expectations of recent grads. Goninen advises patience with recent tech school grad and reminded webinar attendees that recent grades will not be A level techs overnight. Put a structure in place that helps them develop and enables them to succeed.
Focus on communication: You need to make the effort to know who you have working for you, and you must understand how to communicate with techs individually. No two people are the same and different types of people want to be communicated with in different ways. You need to get to know your techs on a person level and interact with them in a style that best meshes with their personality.
Develop a growth pathway: Techs may not understand the pathway to advancement at your shop, so you need to lay it out for them. Make sure you understand a tech's goals and aspirations and set up a path for them to achieve those goals.
Don't forget the little things: Sometimes it's the littlest things that make the biggest impact. "Unless you have been under a truck in 100-degree weather, you have no idea how torturous it is," Goninen says. On extremely hot days, bring cold water or ice cream to your techs to help them cool down. "Little things go a long way," he adds. He suggests you put yourself in the tech's shoes, analyze how hard their job is and determine how you can make things better for your techs.
Work together: The technician shortage is an industry-wide problem and shops needs to work together to showcase the industry as high tech. Explain what it is really like to work in a modern truck repair shop.
When it comes to recruiting and retaining, there is no one single thing that will fill your shop with techs. Rather it will take a combination of actions to get you the results you desire.