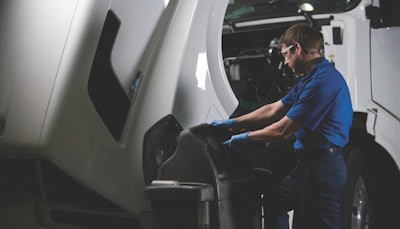 For the dealer and aftermarket sectors, finding a heavy truck technician can feel like looking for the Holy Grail. Because the need for techs is so great. Now imagine an industry having to look for thousands of grails.
Case in point, the U.S. Bureau of Labor Statistics (BLS) reported approximately 24,500 openings are expected each year, on average, between 2019 and 2029. Most of those openings are expected to result from the need to replace workers who leave the occupation. More specifically, the BLS reports about 7,600 of those openings each year, on average, are expected to stem from labor force exits, such as retirements, and about 15,900 of the openings each year are expected to be from workers transferring to other occupations.
Such sobering statistics mean it takes more than merely posting a heavy-duty technician position on an employment website and then waiting for the candidates to come pouring in, especially as more shops eschew less effective print advertisements in favor of an online presence. As more companies move online to beat the bushes for technicians to hire, the competition for these workers continues to be intense.
Because the increased competition has moved online, several in the industry stress the importance of being proactive after the ad has been posted for a technician.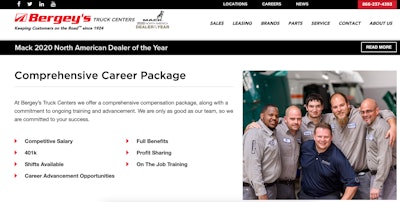 Why search online vs other methods?
"I think you have the ability to reach a larger audience online [and] you get a much larger candidate pool," says Dave Schlosser, vice president of commercial operations, Bergey's Truck Centers. The Mack 2020 North America dealer of the year has been recruiting technicians online for the past few years, he says.
"I think a combination of both online recruiting campaigns as well as visiting tech schools and conducting job fairs/events in person is necessary to keep your business front and center of candidates," Schlosser says.
[Editor's Note: CLICK HERE for a Trucks, Parts, Service (TPS) report on the advantages of working with various tech schools and vocational programs and how to form relationships with those institutions to hire more techs.]
Pat Murray, general manager, Columbia Fleet Service Inc., says the days of job hunters scanning the newspaper for employment adds are about gone, which is why the company has been using online job sites for approximately five years. What's more, Columbia Fleet finds the online method better than aligning with a tech school or vocational program.
"Getting set up with a tech school is something we can do but you can only have so many helpers in the shop at a time," Murray says. "When you get an entry level mechanic, they're more or less a helper as they learn the processes. Just because they graduated doesn't mean they're a mechanic that can be left alone."
Jamin Woody, director of service operations, McCandless Truck Center, says the International dealer uses online employment sites because, by now, most everyone is familiar with them. What's more, Woody casts a skeptical eye on the rare candidates who submit a paper résumé.
"I wonder why a tech, who is supposed to be thinking about proficiency and how to do repairs quicker and more efficiently, is driving around handing out a paper résumé," Woody says.
"With techs in short supply, if the [online] résumé has any experience, we'll call them and set up an in-person meeting," he says. "I started using online recruiting around 2010. Currently, 99 percent of our hires come from online."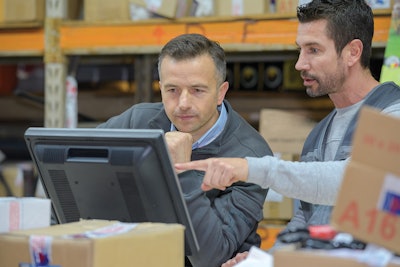 Online strategies
It's no longer good enough, if it ever was, for service shops to solely post their tech openings on an online job site as there is a certain amount of follow through needed to be successful. What's more, attracting a younger demographic also will require the use of social media.
"We post job ads, but by far the hires we make do not come from them. They come from a proactive approach we take," says Woody. McCandless Truck Center mostly uses Indeed.com to locate and proactively contact people, he adds.
"We find and contact technicians whose résumé appears online; we have search alerts for keywords to identify potential candidates," Woody says.
Bergey's Truck Centers uses its own websites to promote job opportunities as well as the benefits of working at Bergey's, Schlosser says.
"Having an automated applicant tracking system has been helpful in promoting our job openings, as well as a more productive way for candidates to apply, allowing us to be more responsive," he says.
Bergey's Truck Centers post its job openings and general information regarding the company on multiple tech school websites, focusing on the culture and benefits of working at Bergey's. "We also use social media to connect candidates to our career site/portal," he says.
Additionally, in a commentary posted on TPS, Kari Beeson, senior director of recruitment and retention, Transervice Logistics, said social media is a must to reach Generation Z — in particular, the 23-, 24- and 25-year-olds from that generation looking to start their careers.
Beeson said it's critical shops increase their presence on social media, including YouTube, Instagram and Facebook, as examples. Social media platforms are where Gen Z gets information and communicates. Without a social media presence, they won't find out about you.
"In order to attract them, it is important to understand how they differ from previous generations. For one thing, they are digital natives. They grew up with technology, expect to use technology on their job and presume to see it used as part of your recruiting efforts," Beeson said.
"Make sure your recruiting efforts are mobile-friendly. This generation spends the majority of its time on mobile devices and will likely be looking at your recruiting ads on their small screens," she said.
Gen Z is very visual and relies on images. "They are [accustomed] to short, snappy messages and you need to keep that in mind when putting together your recruiting material," Beeson added.
Columbia Fleet Service uses CareerBuilder, Indeed and ZipRecruiter. While the company uses the three, Murray says the company has had more success with adding new hires through Indeed and ZipRecruiter.
"I found success with Indeed because when somebody updates a résumé with, for example, diesel mechanic [skills] on his résumé, I will get an email saying this person just updated their résumé or this person is new — and then I will shoot them an email saying let me know if you're interested in a new position," Murray says.
"ZipRecruiter will do an email blast to all potential diesel techs who might not have their résumé posted to be seen publicly but they can get an email saying, 'Hey this is a new job, you might want to check this out,'" Murray says.
Murray and Columbia Fleet Service will then work to get out in front of candidates who look like they might be what the shop is looking for.
"Obviously post the job but also do a proactive search to see if anyone meets the criteria and if they look like they could be a good fit for the position you're looking [to fill], Murray says. "And if we do find somebody, then we'll email or call them."
Pros and cons
Not every method for attracting heavy-duty truck technicians is perfect — or else the tech situation wouldn't be so grim. Industry veterans share the good and bad with recruiting using online job sites.
Schlosser says businesses reach a much larger audience because many people will share the post with their friends and family.
"You can search a wide number of technicians very quickly using keywords to refine results and without geographical restrictions. Many platforms allow you to set up search alerts so you know quickly when someone becomes available," says Woody.
One of the benefits of looking for technicians online is it's relatively easy to do and shops can pay extra on sites to highlight the job listing. In addition to setting up alerts to have a candidate's information emailed directly to them, shops also can set up screening questions to weed out the people who aren't qualified for the position.
"As far as costs go, I think it's reasonable. Obviously, the more you highlight your ad the more expensive it becomes," Murray says.
Downsides include "a lot of passive candidates that tend not to follow up once you reach out," says Schlosser.
Woody says because of all the professional résumé builders available, oftentimes a résumé is far better than the candidate. "You can't get a personal feel for the candidate online. That comes more so once you speak on the phone, [and] I've always found an in-person interview even better," he adds.
Bergey's Truck Centers also likes to attend high school vocational programs and tech schools to speak with students, parents and counselors. COVID-19 hindered those plans. However, Schlosser says, the pandemic has made online recruiting all the more important.
"One of the keys to success with online recruiting is responsiveness. We have seen that typically these candidates have sent out multiple applications and the quicker you respond, the better chance you have at hiring them onto your team," Schlosser says.