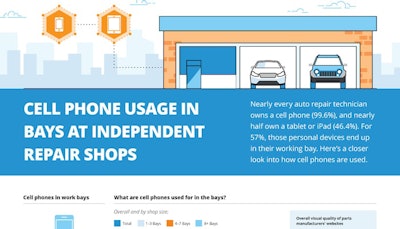 Have you ever been working on a task around your home or workplace that led you to YouTube?
You know what I'm talking about. You're trying to replace the headlight on your truck and you just can't seem to get the lamp's assembly open far enough to complete the task. You can see what needs to happen; you've got your screwdriver in the correct position to spring open the lamp but for some reason it won't budge.
So, you go to YouTube. You type in the make, model and year of your vehicle and "headlight replacement" and 4,000 videos pop up. Most are nonsense — on YouTube, sometimes that seems like standard operating procedure — but if your search terms were correct, the first page likely will feature a half-dozen videos of men in their garages doing the exact same thing you're trying to do.
Three minutes and two videos later, the headlamp assembly is open and you're on your way.
I use a vehicle repair for this analogy because that's our world, but the idea works for any task you're facing. Can't figure out how to replace a component on your water heater? Go to YouTube. Still flummoxed by why your TV is showing an error message? That's a YouTube trip.
Online videos have become our how-to guide for the world.
While that fact in itself is harmless, have you ever considered what that means to your business? Because, let's be honest, if you're using the Internet to solve your problems, you better believe your employees are doing the same.
Last week market research firm IMR Inc., released the findings of its study on the usage of cell phones and mobile devices within service bays of independent automotive repair shops. IMR had conducted the survey in hopes of uncovering just how reliant today's technicians have become on their personal devices.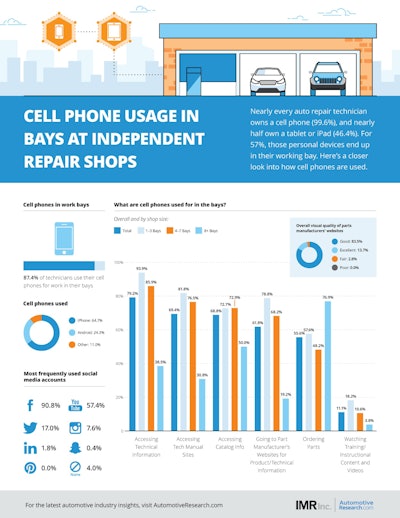 The results were staggering.
According to IMR, 57 percent of automotive technicians copped to bringing their personal device (phone or tablet) into their service bay, and 87.4 percent of those responders said they use their devices in some capacity while working. For the most part, the technicians surveyed by IMR said they choose to use their mobile devices to access service information, tech manuals and catalog information, but other uses were common depending on the demographics of the technician. Additionally, while "watching training/instructional content and videos" was among the least common uses for mobile device use, nearly 60 percent of technicians admitted to using YouTube while on the job — second among social networks behind Facebook.
To me there are three main takeaways from this data:
Are your supplier partners producing relevant content? On average nearly 70 percent of automotive service technicians at shops with seven bays or fewer admitted to using their personal devices to access technical information, manuals, catalog information and part manufacturer websites for product and technical information. I'd imagine those numbers are similar at equivalent shops in the heavy-duty space. Technicians require more information to do their jobs well in 2020 and they are increasingly turning to your supplier partners to acquire that information. Are your suppliers holding up their end of the bargain? Do they have mobile-optimized, accessible content on their sites that your techs can use?
Do you need to up the technology in your shop? This was actually my first takeaway when I saw that 57 percent statistic above. My guess is the reason so many technicians are bringing their own phones into their workspaces is because their employers aren't providing them with workshop computers or tablets to use in their bays. I think that's a problem. I know for decades truck service has been a "bring your own tools" career, but today's equipment requires more complex and higher price tools than the ratchets and crowbars of the past. Subsidizing tool purchases and providing other specific tools may give your business a leg up in recruiting and retaining quality personnel.
If they use it for work … This is the pessimist's takeaway but it's still valid. Once a technician starts using a personal device for work-related reasons it's not a stretch to imagine them using it for personal reasons. That is, after all, what the phone is for. More than 90 percent of the technicians in IMR's study admitted to using Facebook on their personal device while at work. YouTube was second at 57 percent. But while the latter has a clear workplace use case, I don't think the same argument is as solid for Facebook. And even if you ascribe to the belief that employees deserve the freedom to bring their personal devices to work, distracted technicians can put themselves and your business in danger.