Some mornings it might be better just to stay in bed rather than go into work — especially when the workday involves coming face to face with a 15-ft. python.
After picking up a load at a tomato and avocado farm in South Africa, a driver took a peek under the hood because the engine sounded strange when he started up his truck. He discovered the snake had wrapped itself around the engine block, according to a story Tuesday morning on DailyMail.com.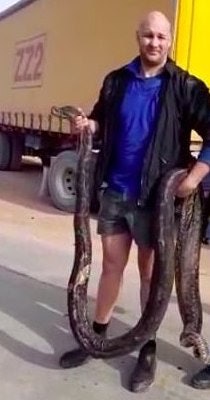 When the driver screamed, Wynand Bloem, the farm's diesel technician and apparently St. Patrick for a day, went to see what was wrong. Bloem, who grew up on a farm and was familiar with snakes, began working on extricating the snake from the truck unharmed. He, along with other workers, spent several hours removing engine parts until the snake could be freed and returned to the wild, the website reports.
"It was a pretty interesting way to start the day," Clive Garrett, the farm's marketing manager, told DailyMail.com, in what could be the understatement of the year.
So, what's the moral of the story? We all have days that test our patience. Maybe a parts delivery has been delayed. Perhaps you're having trouble diagnosing an issue with a customer's vehicle. But, at least, you haven't encountered a snake more than twice your size.
Then again, maybe I'm wrong. Do you have a story to tell? Have you had a similar encounter? What have you found lurking while working on a truck or trailer? Please share your experience for a possible future TPS story. Email me at billgrabarek@randallyreilly.com. And, by all means, include photos if you have some.
Now I'm going to get back to a couple of magazine features I'm working on. But after reading the snake story, I won't be grousing about deadlines. And, the next time I need a new pen, I might not be so quick to throw open my desk drawer for fear of what I'll find.