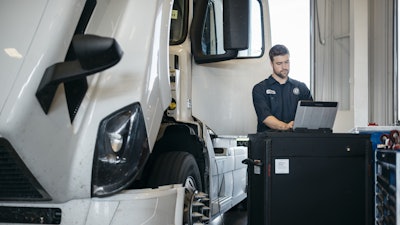 Volvo Trucks North America
Service providers trying to fill open heavy-duty technician positions seems like it has a been a challenge since the beginning of time. Would anyone be surprised if an old cave painting was found with a stick figure's hands in the air in exasperation, standing next to a truck with its hood open?
Sure, there's a fair helping of hyperbole in that scenario. However, it likely strikes a chord with the many service providers who feel the seemingly perpetual, and often frustrating, search for trained technicians is never-ending.
Heavy-duty service shops use different means to attract tech candidates. Some opt for word of mouth and some use job search websites, among other methods.
Still others have decided to support tech schools and vocational programs with their time and resources. Creating a talent pipeline can be rewarding as long as service providers are willing to put in the time up front. Do that and it will only be a matter of time before recruiting techs becomes less arduous.
Overall, Hugo Rodriguez, service manager, Fresno Truck Center, understands the importance of vocational schools of all kinds. "I think we're finally on the right track of understanding the need. Whether it's truck mechanics, plumbers, electricians or nurses, I think we've finally woken up and realized that we need those people and not every kid is going to college."
Regarding truck technician programs and the extreme tech shortage in particular, "The thought is if we can get to them earlier and tap into students with an interest in transportation we can get them involved much earlier. We do this by showing them first-hand how you can have a career, show the opportunities and provide a path through the technical college to then get [hired]," says Danielle Olson, human resources generalist, Blaine Brothers.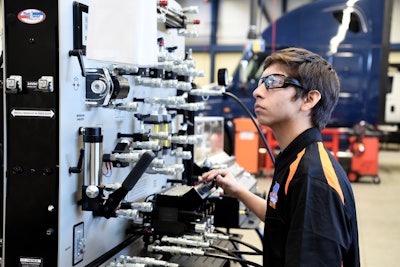 In addition to reaching students early in their academic career and educating them about the trucking industry, the industry must understand aligning with tech schools and programs is a long process, but it's not impossible. Betts Company Chairman and CEO Mike Betts says, "we need to get rid of the [myth] that it can't be done and the bureaucracy is too great. It is being done."
Establishing relationships
As one of the trailblazers in the industry, Betts spearheaded a group of trucking professionals who spent years engaging with the community's school districts about the importance of career technical education (CTE) and helped them develop tech programs of their own in the Central Valley of California. The most advanced of the schools he works with is Duncan Polytechnical Career Pathways High School in Fresno, Calif.
Efforts to establish a relationship with schools helps if more than one service provider is involved in explaining to schools either without a current tech program or fledgling one the benefits to the students of training to be a truck technician.
"Get a group of industry folks who are like-minded and have the same interest as you do and go together," Betts says. "Maybe your group is the very first advisory board for that program that starts from scratch. You offer your services to the school to help them."
[RELATED: Navistar initiative aims to alleviate tech shortage]
Establishing a consortium of service providers when approaching a school is highly advantageous as it displays the commitment the area businesses are willing to make, but it's not a necessity.
Bill Smiewec, director of warranty, training and business development manager and service manager, West Michigan International, works with nine different colleges, universities and tech schools, some for as many as eight years.
He believes there are three steps that provide service providers the most efficient way to develop a relationship with a tech program. Contact the school program director; get involved with the advisory board; and attend the school's career and employer fairs.
"Most importantly, follow up with the schools and students to stay engaged and keep in constant communication. Internship programs are the best way to identify career-hungry employees who are interested in working for a company and are a good fit," Smiewec says.
Blaine Brothers says when the company reaches out to new schools, it's about research, connecting with the recruiting team, getting Blaine's name out there and remaining in communication with the schools. The company works with several Technical Colleges, including Hennepin Technical College, Anoka Technical College and Dakota County Technical College.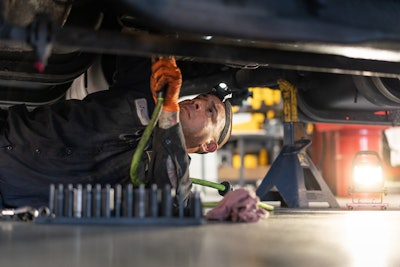 "We chose these schools because they are regionally close to our facilities and near our shops. Since we recently had an acquisition in Baldwin, Wis., we've been working on building relationships with schools there and just started working with a new school in that area," says Olson.
When Blaine Brothers visits schools, the company informs school officials it wants to invest in students, partnering and getting more involved. It starts with partaking in programs schools have, such as job fairs.
"The relationship builds from there. We don't wait for them to ask for our help, we volunteer and continue to build relationships and participate in their programs and classes. We offer up ideas and being there to help the students get ready for a career," she says.
Leanne Fitzpatrick, strategic programs manager, Volvo Trucks Academy, says a good way to identify possible educational partners is by selecting programs that have been accredited thru the ASE Education Foundation, which provides a rigorous accrediting process, diving deep into the school's lesson content and verifying they have the necessary tools to teach today's skills and technologies.
Volvo works with Western Technical College, El Paso, Texas, University of Northwest Ohio, Lima, Ohio; and J-Tech Institute, Jacksonville, Fla.
According to Mike Mallett, manager, service training programs, Daimler Trucks North America, Universal Technical Institute (UTI) offers the Finish First program, a DTNA-specific 12-week elective at its Avondale, Ariz., Lisle, Ill, campuses. This year, the Orlando, Fla., campus will come on board.
Get Ahead is a program where DTNA dealers partners can sponsor a local school for access to web-based technician training, service literature access and DiagnosticLink software — all free of charge. The program began in 2015 and there are 259 locations currently enrolled across U.S. and Canada, Mallet says.
"For both UTI Finish First and Get Ahead, we encourage employing students prior to graduation to give them a real world experience of learning and then doing. Onboarding and mentoring is crucial to bring them up to speed and support their entry into the field," Mallet says.
Challenges and advantages
Difficult as it can be, there definite are advantages to cultivating relationships with tech schools.
Smiewec agrees the education students get at these schools is an advantage for service providers. "Recruiting techs directly from these programs provides companies with employees that have education and experience in the fields they are being hired for," he says.
Also, recruiting younger techs means employers can mold them with the knowledge they need for a particular company and assimilate them to its culture.
"You can train them the way you want to if they've never worked in a shop. With schooling under their belt, now they need hands on training, and we can provide that," Olson says.
"The advantages of tech schools is the students have had some basic training and, in some cases with the OEM programs, more specific training. The downside is that sometimes what the schools are training them on is not relevant to the dealer's needs," says Dave Schlosser, vice president of commercial operations, Bergey's Truck Centers, a Volvo dealer.
[RELATED: Message not received — A disconnect between industry and education is widening trucking's diesel technician employment gap]
Fitzpatrick says most schools have the best of intentions but are not all created equal. Some schools "may have different educational philosophies and budgets that significantly impact a student's education. One school may spend more time on hands-on activities and others may not even have the finances to purchase the necessary equipment to support such activities."
Other challenges include the investment, extra handholding as well as a possible change of heart by tech students.
"Currently I am running 14 apprentices in this service department and part of the apprehension of bringing in an intern is being able to adequately supervise them," says Rodriguez.
Not only is more supervision required of newly minted techs, but other employers also are another challenge, Smiewec says. "The challenges are really the time commitment and competing employers. Employers that have invested the time and energy into these programs are quite protective of their footholds in them," he says.
"Some drawbacks are the expectations of what these graduates are experienced in and capable of versus the level of what they truly need as far as experience and education to perform the jobs they are hired for. Generally, we find that these do not align properly and the technician's that come out of these programs don't always [have] the overall education and experience required for their positions," Smiewec says.
[RELATED: Peterbilt launches recruiting website for next generation of technicians]
Betts agrees not to have too high of expectations regarding what the techs will immediately be able to contribute and how long of a process the developing a tech pipeline is.
"You don't want people to have false expectations. It's not going to happen overnight," he says. "Programs can take years before reaching the point to where the school is providing interns, graduating students and help with trying to land a tech position."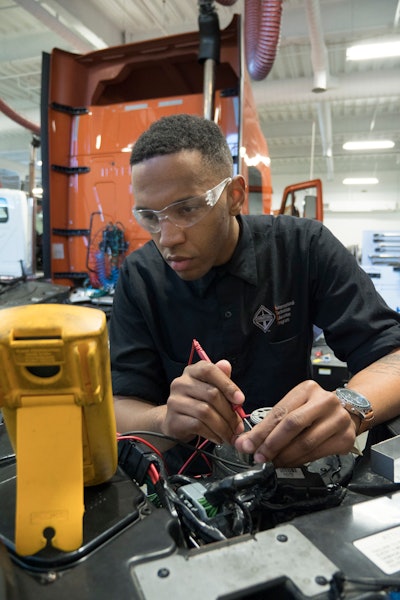 A serious commitment to a tech school and its students also can be a bit of a gamble, especially if student techs decide the vocation isn't for them or they want to remain close to home or, conversely, move out of the area upon graduation.
"Some may want to move away when they graduate, so sometimes you invest and they move. With some of them, we can offer work at another facility because we have eight different locations," Olson says.
Fitzpatrick says there also will be students who do not like to move too far from their family/support system. "Finding a school close to home usually improves long-term employment success, or at least finding one with a national footprint that supports your local area is helpful," she says.
But being involved also enables service providers to nurture potential techs if they begin to question their career path, reducing the likelihood of a student abandoning the industry.
"The students are young and sometimes we have to work through things with them. Sometimes there are growing pains and we have to teach them how to handle [certain situations]. We realize that and are here to invest in the students for the long term and teach them," says Olson.
Delivering results
Of the 14 apprentices in Rodriguez's shop, half of those techs come from Reedley College, with some from, Duncan Polytech, UTI and Wyoming Tech. "In my shop I have 53 technicians total between body shop and service department and we could easily use five more," he says.
One graduate from Duncan Polytech has been with Rodriguez for nearly two years. The tech started as a lube technician and after six months Fresno Truck Center moved him into the apprenticeship program, which is a four-year program in which young technicians are evaluated every six months to see how they're progressing.
"I thought the [Duncan] instructor prepared this tech with the fundamentals to come in and understand the basics of a truck. He was prepared to use tools and knew the fundamentals to where he was able to come in and start from the beginning," he says.
Fitzpatrick says the partnerships have been working well for Volvo. The schools are very engaged and see the value of the program and its success.
"They have formed great relationships with our dealer personnel and have even had Diesel Advanced Technology Education class 'field trips' to experience the day in the life of working at one of our dealerships," she says.
Mallett adds UTI has been a strong partner for DTNA, graduating more than 1,400 entry-level technicians through the Finish First program. It is strongest in the regions where campuses exist. Get Ahead was originated to help network locations grow technicians within their local communities and more than 6,000 students have been enrolled in the program.