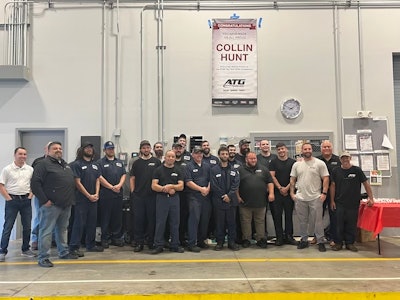 ATG
Advantage Truck Group's Collin Hunt is one of 12 technicians from across the U.S. and Canada to earn a spot in the final round of the 2023 Daimler Trucks North America Technician Skills Competition.
"Collin's commitment to expanding and refining his skills is reflected in his level of expertise and the service he brings to our customers every day. This is an incredible accomplishment and we are proud to have Collin represent ATG as one of the top DTNA technicians in North America," says ATG President and CEO Kevin Holmes.
[RELATED: ATG sales manager wins Western Star award]
Close to 1,500 technicians from Freightliner and Western Star dealerships and Detroit distributors competed on written exams in the engine and vehicle categories to qualify for the hands-on portion of the competition. Hunt's score on the exam placed him in the top six technicians in the category.
Hunt, a graduate of the Massasoit Community College with an associate's degree of applied science in diesel technology. He first started working with DTNA's Freightliner and Western Star trucks in 2021 when he joined ATG's Raynham, Massachusetts, location.
"After working at a large organization and then at a small towing business, I knew I wanted to be someplace with the resources of a dealer, yet small enough so I would know the people I worked with and be part of a team," Hunt says. "ATG was the perfect fit."
Hunt will compete July 26 at the DTNA Training Center in Detroit.
"I love solving electrical problems and diagnosing intermittent issues and faults," Hunt says. "Any unusual problem that comes into the shop is given to me. I'm always excited to try new things. Every day is different, with a new challenge to face. It's what I like most about being a technician."