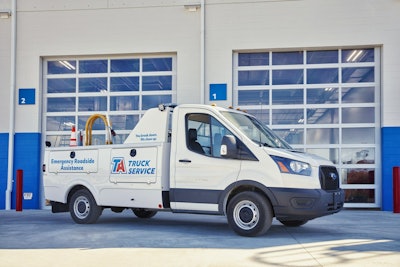 Universal Technical Institute and TravelCenters of America are teaming up to train diesel and auto techs.
[RELATED: BP completes acquisition of TA]
Students enrolled in UTI's diesel and auto technician training programs will have the opportunity to apply for positions and start working for TA's Truck Service division while they are still in school. Also, TA will offer tuition reimbursement for qualifying employees who have graduated from a UTI program.
"We are excited to bring another nationwide partner like TravelCenters of America into the UTI family to provide our students and alumni with opportunities for great careers and future tuition reimbursement," says UTI Division President Tracy Lorenz. "Like UTI, TA has a passion for helping Americans get back on the road through the automotive and diesel services they provide, and we value their support in helping out students get even more real-world experience."
There are 17 participating TA Truck Service locations. Students at UTI campuses in Avondal, Arizona; Rancho Cucamonga, California; Lisle, Illinois; Mooresvile, North Carolina; Exton, Pennsylvania; and Dallas and Houston are eligible to apply for positions. TA will offer UTI students 20-30 hours of paid work experience and consideration for full-time employment after graduation. TA will offer a new hire bonus payment at six months and one year of employment and relocation assistance for technicians across the country.
[RELATED: Texas repair shop continues UTI partnership]
"TA has been hiring UTI graduates for years and we are proud to formalize our relationship with such an iconic brand," says John Dodson, vice president of business alliance and NASCAR at UTI. "With more than 285 locations in 44 states and nearly 3,000 technicians, TA offers great opportunities to both existing students and graduates."
TA Truck Service offers in-house services, mobile services and emergency roadside assistance.
"We are proud to offer unique ways to attract new talent to TA Truck Service," says Brian Lukavich, senior vice president for TA Truck Service. "We are excited to welcome new technicians to TA and look forward to providing them with a meaningful career with plenty of growth opportunities."