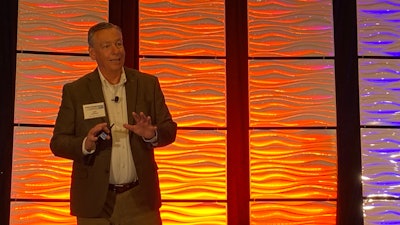 AkzoNobel's Jeff Rhoads says the North American collision and body shop industry has a 35,000-worker technician shortage. The industry also receives only 4,500 post-secondary technical graduates each year. Doesn't take a nuclear physicist to see how that math equation adds up.
Speaking Tuesday at the HD Repair Forum in Fort Worth, Rhoads shared how businesses in the collision and body shop industry can address this workplace shortage by developing and maintaining a workplace culture that retains employees and attracts good candidates.
Rhoads started his presentation by sharing what constitutes as a toxic workplace. Rhoads says poor workplace culture and leadership is the No. 1 reason employees exit a business and can weaken a company regardless of its industry. But in one where employees (particularly technicians) are as essential as they are in the collision market, Rhoads says a toxic workplace can drive a company into a labor shortage of which it's nearly impossible to climb out.
[RELATED: 2023 HD Repair Forum tackles ADAS service best practices]
Rhoads says toxic workplaces all generally have the same traits: non-inclusive, disrespectful, unethical, cutthroat, abusive and more. Additionally, Rhoads says employees in today's workforce have never had more power to share their negative workplace experiences out into the world with social media, Glassdoor, etc. Employers who want to avoid being sullied online and watch their best associates consistently leave for greener pastures have to nurture a culture of positivity and engagement.
Rhoads says collision and body shops can do that by understanding what employees want and evolving their culture to meet those expectations. Employees want to avoid job misery. They want to be engaged. They want to believe what they're doing matters — and be told as such. Rhoads says a business owner can't know everything about all of his associates, but that doesn't mean a business can't cater to some employee personal needs.
He uses the example of workers who need to leave early on certain days to attend to their children, medical appointments and the like. Rhoads says young employees specifically expect that degree of leeway and support from employers. Potential workers are unlikely to join your business if they don't believe you'll support them; nor will they stick around if they join your business and realize your promise of support was shallow.
"Express empathy. Be a part of their lives," he says. "They spend most of their waking moments with you … Show them you care about them."
Rhoads also lists a number of workplace cultural traits that can have a positive impact on employee engagement and recruitment, such as development, accountability, psychological safety and balance. He says all are possible with good leadership, offering another math equation of process plus people equals profit.
"Talk about what your vision is. What your message is. Be clear about your expectations," says Rhoads. "Show [your people] how you will support them."
Alarmingly, Rhoads says research indicates only 32% of associates are fully engaged in their operations. That's a depressingly low number he admits, but it's better than the 18% of workers who are actively disengaged. That means the remaining half the workforce is available to be swayed. And efforts by employers to further connections with engaged and passively disengaged employees — along with jettisoning actively disengaged bad apples — can shift a culture upward.
It's not easy, necessarily. Nothing about running a business is. But Rhoads says its more than worth the effort. And with the size of the technician retention facing the industry, he says it's a task collision and body shop owners can no longer avoid.
"Are your people going to be leaving? You can't afford to lose the good ones," he says.