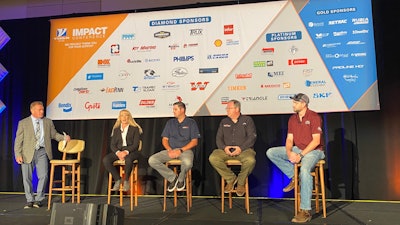 Another panel introduced Monday at the VIPAR Heavy Duty IMPACT Conference was a distributor discussion, in which VIPAR Heavy Duty's Jim Pennig posed questions to four distributors about how they're approaching current business challenges.
Employees earned a lot of time during the conversation, with each distributor sharing how they've found success in retaining their best people.
Cliff Hovis of Hovis Auto & Truck Supply said his company's familial atmosphere has always been a differentiator. Hovis said his employees are his friends and so many associates across the company's 17 locations have personal friendships outside of work. He said that provides a valuable firewall against poaching because employees don't want to leave a place they love. Ryan Bugai at Northwest Drivetrain agreed. He said his company's retention rate is incredibly high for associates once they've spent a year or more in the operation and have come to love its culture.
[RELATED: NTDA panel talks future of trailer supply chain]
Supporting culture with compensation obviously helps too. Candy Daume said Crossroads Truck Equipment has tied its bonus program to net stores sales so employees can see how their commitment to the business clearly impacts their earnings.
Also addressed by the panel was e-commerce and how the distributors see online sales portals working for their businesses.
Bugai said Northwest Drivetrain's site has been valuable for customers who know their part numbers and can easily place repeatable orders. He said with customers that don't know what they're looking for or who are shopping passively, calling into a store for that personal interaction, they can be reassured — "give us 30 minutes and we'll find [the part] for you," Bugai said.
Daume said Crossroads has a segment of customers who use the company's e-commerce portal religiously but said more product information is needed.
Ryan Plowman with Pomona Auto & Truck Supply said his company's tool has been more internally than externally valuable. He said his outside sales team uses the portal instead of calling in orders, which frees up the company's inside sales team to be more productive.