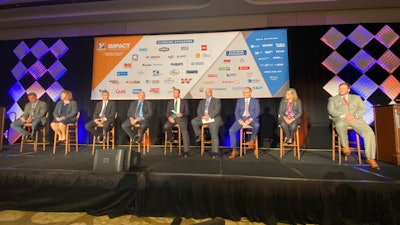 Thrilled to be live onsite in Marco Island, Fla., after Hurricane Ian spared its venue last month, VIPAR Heavy Duty introduced a new, interactive opening general session Monday at its annual IMPACT Conference.
Featuring a leadership update, three panel discussions and two industry presentations, Monday's session covered all corners of the independent aftermarket and how VIPAR Heavy Duty is working to support its stockholders and their more than 700 locations across North America.
The highlight of Monday's event was a panel discussion with eight of VIPAR Heavy Duty's leadership team led by Chairman of the Board Bill Nolan of PBS Truck Parts. During the discussion, stockholders posed questions to the panel about how VIPAR Heavy Duty is navigating the evolving complexities of the aftermarket and supporting distributors in their growth strategies.
E-commerce was a hot-button issue during the panel. Several stockholders said they are working to bolster their e-commerce platforms and move projects forward quickly with their vendors. VIPAR's leaders are focused on promoting the importance of e-commerce portals and said they are working to support stockholders and drive preferred vendors to implement solutions quickly.
Vice President of Marketing Jeff Paul noted VIPAR Heavy Duty now has product attributes, images and specifications for more than a million SKUs to support e-commerce portals across its network.
[RELATED: NTDA business sessions address parts and service profitability, dealer financing]
As expected, pricing, rebate management and supply chain also came up during the panel.
On pricing and rebates, Wendi Frederick, director of business resources, said VIPAR Heavy Duty provides routine updates on rebate redemption with detailed reporting available to support stockholders. Vice President of Program Management Larry Griffin and President and CEO Chris Baer also updated stockholders on the onboarding of a few new suppliers — and the programs they negotiated to maximize the partnership to best serve suppliers and stockholders mutual customers.
Finally, there was discussion of the technological shifts found in the trucking space and how electric vehicles and other fuel sources could impact aftermarket parts demand.
In the immediate future, the VIPAR leadership team doesn't anticipate a huge shift in the market despite the buzz around alternative power. Griffin said infrastructure needs to improve dramatically nationwide to support large scale adoption and added VIPAR's research indicates more than 90 percent of heavy-duty trucks in 2032 will still run on diesel. He said the markets most likely to shift away from diesel between then and now are local or regional duty cycles, such as refuse, municipalities and last-mile delivery.
The leadership team said distributors should use their market expertise and customer relationships to determine which customers are most likely to adopt these new technologies and update their part inventories accordingly to meet those customers' changing needs.