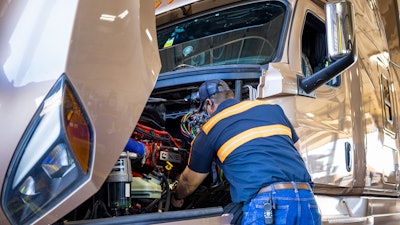 Love's Travel Stops
Love's Travel Stops recently awarded 96 Truck Care and Speedco diesel technicians and mechanics more than $520,000 in lifetime achievement bonuses for reaching career milestones in billed repair labor.
These recipients are the first to receive bonus payouts as part of a new incentive program tied to light mechanical repair work on commercial trucks.
"This new incentive for our dedicated team members in our shops is like none other in the industry," said Gary Price, executive vice president for Love's. "At a time when there's high demand for skilled diesel technicians and mechanics, our light mechanical bonuses will reward our employees for their hard work, help us attract and retain top talent and position us to provide even better service for America's professional truck drivers."
Diesel technicians and mechanics are eligible for their first lifetime achievement bonus when they achieve $500,000 in billed repair labor during their time at Love's. The company awards the second bonus at the $1 million milestone.
Employees who have completed the Diesel Technician Apprenticeship Program also are eligible to receive an annual productivity bonus tied to repair labor.
Love's said it has the largest over-the-road workforce of diesel technicians and mechanics, with 10 new Truck Care and Speedco locations opening in the past year.