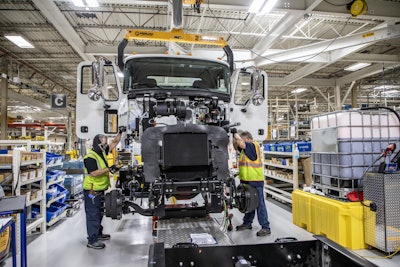 United Auto Workers members on Sunday rejected a new five-year collective bargaining agreement with Mack Trucks and will strike at 7 a.m. Oct. 9 at Mack's facilities in Pennsylvania, Maryland and Florida.
Mack Trucks seemingly side-stepped a strike Oct. 1, reaching a tentative agreement with the UAW that its membership – 3,900 employees at the three sites – ultimately shot down by 73% Sunday.
"We are surprised and disappointed that the UAW has chosen to strike, which we feel is unnecessary," Mack President Stephen Roy said via emailed statement. "We clearly demonstrated our commitment to good faith bargaining by arriving at a tentative agreement that was endorsed by both the International UAW and the UAW Mack Truck Council. The UAW called our tentative agreement 'a record contract for the Heavy Truck industry,' and we trust that other stakeholders also appreciate that our market, business, and competitive set are very different from those of the passenger car makers."
The tentative agreement, which the two sides had worked toward for three-plus months, included a 10% general wage increase in year one for all employees, a compounded 20% increase to general wages over five years, and a guarantee of no increases in health insurance premiums through the term of the contract.
UAW President Shawn Fain, in a letter written Sunday to Volvo Trucks Director of Employee and Labor Relations Holly Georgell, listed 15 items that "remain at issue," including wage increases, holiday schedules, seniority, retirement and benefits.
"I'm inspired to see UAW members at Mack holding out for a better deal, and ready to stand up and walk off the job to win it," Fain said via statement.
Mack Trucks is part of the only heavy-truck manufacturing group, Volvo Group, that assembles all of its trucks and engines for the North American market in the U.S., "and continues to compete against products built in lower-cost countries," Roy added. "We have invested more than $435 million in our plants and logistics network over the last 10 years, and are now in the process of investing more than $1 billion in new Mack products.
"We are committed to the collective bargaining process, and remain confident that we will be able to arrive at an agreement that delivers competitive wages and benefits for our employees and their families, while safeguarding our future as a competitive company and stable long-term employer," Roy said. "We look forward to returning to negotiations as soon as possible."
Six UAW chapters representing more than 3,500 Mack Trucks employees at five of the company's plants went on strike in 2019 for almost two weeks.
Mack sister company Volvo Trucks North America endured a UAW work stoppage in 2021 that dragged on for more than a month.
A UAW work stoppage at GM, Ford Motor and Chrysler-parent Stellantis has been ongoing since mid-September.