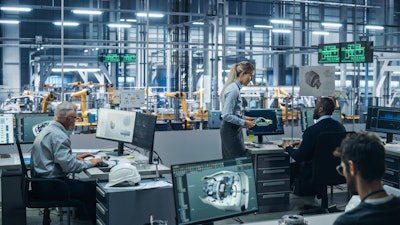 The U.S. Department of Labor on Wednesday announced proposed rulemaking that would extend overtime protections to 3.6 million salaried workers.
The new plan would guarantee overtime pay for most salaried workers earning less than $1,059 per week, about $55,000 per year, by updating the regulations under section 13(a)(1) of the Fair Labor Standards Act.
[RELATED: Teamsters ratify UPS contract]
"For over 80 years, a cornerstone of workers' rights in this country is the right to a 40-hour workweek, the promise that you get to go home after 40 hours or you get higher pay for each extra hour that you spend laboring away from your loved ones," says Acting Secretary Julie Su. "I've heard from workers again and again about working long hours, for no extra pay, all while earning low salaries that don't come anywhere close to compensating them for their sacrifices."
The proposed revisions include increasing the standard salary level and the highly compensated employee total compensation threshold. The proposed rulemaking would also provide for an automatic updating mechanism that would allow thresholds to change to reflect earnings data.
[RELATED: Flat-rate, hourly or in between? How you pay your techs depends on your techs]
"Today, the Biden-Harris administration is proposing a rule that would help restore workers' economic security by giving millions more salaried workers the right to overtime protections if they earn less than $55,000 a year," Su says. "Workers deserve to continue to share in the economic prosperity of Bidenomics."
The department held more than 27 listening sessions with more than 2,000 participants to inform the proposed rule, it says.
"We are committed to ensuring that all workers are paid fairly for their hard work," says Jessica Looman, principal deputy wage and hour division administrator. "For too long, many low-paid, salaried workers have been denied overtime pay, even though they often work long hours and perform much of the same work as their hourly counterparts. This proposed rule would ensure that more workers receive extra pay when they work long hours. Public input is essential as we consider the needs of today's workforce and industry demands, and we encourage continued stakeholder input during the public comment period."
The public comment period will begin as soon as the proposed rulemaking is published in the Federal Register. Upon publication, the public comment period will last 60 days, and the department says it will consider all comments received before publishing a final rule.
The department says proposed changes include:
Restoring and extending overtime protections to low-paid salaried workers. The department says many salaried workers do their job alongside hourly employees that perform the same tasks, but the salaried workers often work more than 40 hours per week. "Because of outdated and out-of-sync rules, these low-paid salaried workers aren't getting paid time and a half for hours worked over 40 in a week," the department says in a news release. "The department's proposed salary level would help ensure that more of these low-paid salaried workers receive overtime protections traditionally provided by the department's rules."
Give workers who are not exempt executive, administrative or professional employees time back. The rule, the department says, will better identify which employees are executive, administrative or professional employees who should be exempt. Those who are not exempt would get additional time with their families or additional compensation for working more than 40 hours a week.
Automatic updating of salary thresholds. The department says salary thresholds would update every three years to reflect earnings data.
Restore overtime protections in U.S. territories. From 2004-2019, the department says regulations ensured the overtime threshold was also applicable in U.S. territories where the federal minimum wage was also applicable. This rule would return to that practice.