Phillips Industries offers the following tips for troubleshooting flickering lights or a group of lights out on a trailer.
Clean both 7-way sockets on the tractor and trailer. Then clean both plugs on the electric cable with a 7-way plug and socket brush.
Insert a socket circuit checker into the 7-way connector on the tractor. Go inside the cab and turn on each of the circuits individually.
Check the tester to see that only one LED is lit. If the proper LED lights up, connect a 7-way electrical cable to the tractor and use the 7-way plug tester at the other end of the cable. If the LED lights up correctly, the problem is somewhere in the trailer.
Check the circuit breakers on the trailer's 7-way nosebox. They may be bad or need to be tightened. If the circuit breakers are working properly and there still is a problem, the trailer wiring is most likely the culprit.
If two or more lights on the tester are turned on, the problem is with the tractor wiring. If, however, no LEDs are lit, check the fuses and relays inside the tractor.
If the tractor fuses and relays are working properly, measure the voltage of the correlating circuit breakers on the tractor's 7-way socket. If there is no voltage, then there is a cut or loose wire from the fuse box to the back of the tractor.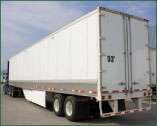 You cannot diagnose a wiring problem directly at the front of the trailer if it is set up as a pup trailer with a tester, but need to do so at the back of the trailer.
In this case, plug in the light/circuit tester a the rear of the trailer. Then turn on the flashers, marker lights and engage the brakes to determine if all the circuits are working properly.
The same process can be followed using a 7-way plug circuit checker on a 7-way cable when plugged into the back of the tractor.