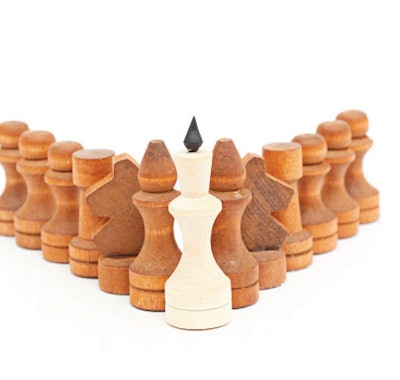 By cultivating an intelligent and well-rounded leadership team, your business can grow and prosper in the aftermarket.
By Lucas Deal, Associate Editor
lucasdeal@randallreilly.com
What is the leadership structure of your business? Does it sometimes feel like you are in it alone? If so, maybe it's time for you to add more leaders.
Building leadership within a business is a difficult task, but it comes with an excellent reward.
Businesses with strong leadership are much more stable than a business constantly looking for answers.
Here are some tips for adding leaders and increasing leadership within your business.
Find Your Leaders
Merriam-Webster defines a leader as "a person or thing that leads; a directing, commanding, or guiding head, as of a group or activity." But what makes a person a leader is harder to define.
There are a variety of personal skills and traits that lend themselves to leadership. Each is important in its own way, and must be developed and conditioned over time to be successful.
In the aftermarket, having skilled leaders within your management structure is essential. A company cannot succeed without leaders to motivate employees, and good leaders keep a company operating in the short term while planning for growth in the long term.
The first step toward developing leaders is identifying the employees who have the character traits you value in leadership positions.
Having the right attitude is one strong leadership trait, says Bill Nolan, president of Power Brake & Spring.
"Within our company, attitude is probably the most important thing. You have to have that 'can do attitude' and be willing to do whatever it takes to get the job done," he says. "Those usually are the people who have the potential to be good leaders.
"If you look at a problem and don't see the solution as an opportunity, you probably aren't going to cut it."
Having the right attitude also means having a willingness to learn and grow.
Andy Robblee, president of Six Robblees and a 2012 Truck Parts & Service Distributor Of The Year finalist, says he's witnessed talented employees get passed over for leadership positions because they didn't have any desire or enthusiasm for knowledge — and no one wants an uninspired leader.
Strong communication skills also are important, for interacting with both employees and customers.
"You need to have that ability to relate to people," says Dave Willis, president at CRW Parts. "Communication is absolutely critical."
Don Kelley, president and general manager of Lake Charles Truck Equipment, values communication skills and the ability to relate to customers as the most important leadership traits.
"I think if an employee has an outgoing personality and knows how to treat people with respect he will do that with everyone," he says.
And because not every interaction between a customer and employee is positive, Kelley says a leader who understands how to be honest and fair with customers is more valuable than someone who is apprehensive or hesitant regarding customer relations.
Employees make mistakes, and leaders have to deal with those mistakes. Being honest and respectful toward customers in those situations is the best course of action for both sides, he says.
Aven Sharp tries to preach the same tactic to his employees at W.W. Williams, a distributor in the WheelTime network. As the president and general manager of the company's Southeast branch, Sharp says the ability to speak clearly and directly goes a long way.
"I think that's big," he says. "You have to be able to communicate with everyone."
Being hard working and dedicated is another leadership trait.
Employees can lead by example in any area of a business, and an employee who's willing to go the extra mile while on the bottom of the totem pole is usually the same one who will do whatever it takes when working at the top.
"If you're a hard worker and you don't mind doing what it takes to get the job done, [other employees] will see that and respect it," Kelley says.
Evaluate Your Leaders
Once you find employees you believe can become leaders, it is important to give them opportunities to showcase their leadership abilities.
This can be done by increasing an employee's workload and responsibility and promoting him into positions of higher authority within your business.
An employee who has the skills to lead should respond positively to these challenges.
But employees who rise to become department leaders still need to show consistent growth to become a branch manager or corporate leader.
At Power Train, Director of Sales and Marketing Brandon Ford says his company likes to look at an employee's "proven ability" when promoting someone into a leadership position.
Power Train defines employees' proven ability as the skills they display that show they have the talent necessary to work in a leadership role.
Ford says these skills can be learned on the job or in an education setting, and says they encompass necessary personal traits and business acumen.
An employee must have business knowledge to be successful in a leadership role.
A leader "understands our business and our goals, and knows how to get us there," he says.
"You have to understand sales and have an understanding of financial statements, but that can be learned," adds Willis. "People learn and mature as they grow, and as they learn more about business they can grow to understand what is necessary."
Willis says members of the CRW Parts management structure have done just that, starting at lower levels in the business and gaining experience and leadership skills at each level while ascending.
Employees elevated into their first leadership positions also need to showcase the character traits that led to their promotions to gain the respect of their coworkers.
A person cannot lead if those he's leading do not believe in him.
"I think respect is earned," Willis says. "You can't just walk in and be in charge. I don't think it works that way. You gain respect by working hard and working intelligently."
Working intelligently also means thinking about the future.
In addition to understanding how a business works, it is important for potential leaders to have ideas of ways a business can grow and expand.
Ford says Power Train uses a system called management by objective where managers provide employees with broad lists of jobs and each employee decides the most effective way to approach the tasks on the list.
He says this breeds confidence in employees and allows leaders more time to devote to business plans and large-scale projects.
"Both sides of the fence enjoy that style," Ford says. "The freedom is appreciated."
Educate Your Leaders
Another important step in molding leaders is training. Business is constantly changing. Management and leadership strategies that were used 20 years ago are obsolete today, and it is important for business leaders to stay current with the latest leadership practices.
One way to train your leaders is to make sure they communicate with each other. Scheduling corporate events where your management team can sit together and discuss strategies can be very successful, as can conference calls, business sessions and email networking.
Robblee says his company holds a retreat for its leaders and management team every January, and leadership is one of the main topics of discussion.
"We talk training a lot," he says. "We try to get everyone together to talk about what we've done well and where we can improve. It's a great week for everyone, and it helps everyone feel comfortable with one another.
It opens up lines of communication that can be used the rest of the year."
Robblee says that is an absolute necessity because of the size of the territory Six Robblees covers. The distributor has locations from Oakland, Calif. to Fairbanks, Alaska, so getting together for monthly training sessions just isn't realistic.
"There always are things to learn and we want all of our guys to be open to that," he says.
At Power Brake & Spring, Nolan says his leadership team tries to communicate as much as possible.
"We don't have any formal leadership training, but that's something we've talked about [doing]," he says. "For us, when we see someone doing something good we try to use it as a teaching moment. We will try to let everyone know what [the person] did and why it was successful."
There also are classes available to teach employees about leadership strategies.
As the only university in the United States to offer a degree in aftermarket studies, Northwood University has multiple courses covering leadership.
Brian Cruickshank, director of Northwood's University of the Aftermarket program, says the school held its first ever Heavy Duty Leadership course in July at its campus in Midland, Mich.
The course was designed as a week-long discussion-based forum where students interacted with Northwood's professors and heavy-duty aftermarket leaders.
"The program is designed to develop the heavy-duty leaders who will be rising through the ranks to lead their companies in the coming years," Cruickshank says.
"It is important for those leaders to start thinking strategically and about the big picture," he adds.
Interacting with people who actually are leading major businesses can help a developing leader understand how to organize his goals and plans.
Anyone can have ideas for growth, but it takes careful planning and an understanding of the aftermarket to make those plans a reality. The Heavy Duty Leadership course at Northwood is an opportunity for potential leaders to absorb that information, Cruickshank believes.
Another way to train employees is by hiring consultants and other outside leadership professionals.
Chuck Marrale, president of One on One Sales Development, Inc., works to advise aftermarket businesses on successful sales goals and leadership plans.
Marrale currently is working with several distributors in the HDA Truck Pride network.
There are many strategy consultants can use when working with a company. Marrale prefers a hands-on approach, shadowing employees for long stretches and providing feedback afterward.
By seeing each employee during his normal workday, Marrale is able to see how he fits into a company and evaluate his performance. Some employees can be uncomfortable hearing criticism, but Marrale says he tries to provide them with information they can use to improve.
"I kind of throw a lot of stuff on the wall and hope the good stuff sticks," he says.
Allow Your Leaders To Lead
The last step in developing strong leaders is making sure they have the autonomy and authority to lead.
Sharp says he instills confidence in his leaders by allowing them to make tough decisions. He says his branch managers know their markets and their customer base better than anyone, and he trusts their judgment in making the right calls — for their locations and the company as a whole.
He thinks that freedom is necessary for a leader to thrive.
"A lot of employees don't have a safe environment for that and they are scared to step up out of the box and make a decision," he says. "We don't want that for our guys. We want them to solve problems for their customers."
Willis uses the same business plan at CRW locations. He says all of his branch managers have sales backgrounds and understand how to work with customers.
When problems are posed to them, he expects them to provide solutions. There shouldn't be a need to contact corporate headquarters unless it is absolutely necessary, and he expects his leaders to know when those times are.
"They know what they can do without a call, and they know when a call is necessary," he says.
Cruickshank says it's a matter of trust. If a business leader trusts employees working for him, those employees will have the confidence needed to trust their own abilities and make tough decisions.
But sometimes bad decisions are made, and Robblee says it's important in those situations to discuss the mistake and reaffirm to the employee that you still have confidence in him.
"Where I've found we've had the most success is when we see a mistake addressing it immediately," he says. "Tell them what went wrong and let them know how you would prefer they handle it the next time, but be reassuring. You still want them to be able to make decisions."
You don't have to do it alone. With these helpful tips, you don't have to.
A Strong Sales Force Also Can Help Lead Your Business
Chuck Marrale, president of One on One Sales Development, Inc., says a cohesive sales department working together is another effective way to help lead your business.
Marrale advises aftermarket businesses to teach inside and outside salespeople, and delivery drivers, about your business goals so the unit can work together to increase sales numbers.
He says delivery drivers interact with customers more than any other employees in your business, so it's important for them to understand your company's objectives and where to go with feedback.
When drivers hear something from a customer, they need to know to provide that to your salespeople, and from there your salespeople need to know how to respond.
It also is important that your salespeople are well trained by your corporate leaders, Marrale says, so they can solve customer issues consistently and effectively while following your business plan.
"One [salesperson] can make a concerted effort to hear that [feedback] and make changes, but if there isn't support from the others in charge that effort dies," he says. "Everyone has to be on the same page."
By creating a unified front, each employee in your sales department becomes a leader and has a say in the future success of your company. Marrale says that helps motivate quality work.