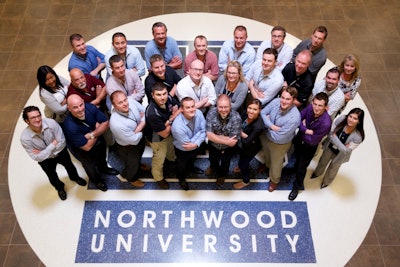 Twenty-seven heavy-duty aftermarket professionals gathered at Northwood University earlier this month for the third-annual Heavy Duty Leadership education conference.
Heavy Duty Leadership is a week-long leadership development program specifically designed for professionals working in the North American commercial vehicle aftermarket, Northwood says. Students in the year's class represented a wide range of heavy-duty aftermarket job functions and geographies and immersed themselves deeply into understanding the nuances of the business of their chosen field.
"This was a week to work on the business, rather than in it," says Steve Goggins of Caterpillar. "I enjoyed the sessions as much as getting to know my classmates. We spent a lot of time – even after hours – talking about leadership, the industry and the challenges we all face on a daily basis."
Northwood says participants in this year's class included:
Bob Angliss                           AxleTech International
Paul Boggeman                      Plaza Fleet Parts
Kevin Bouder                          Navistar
Joseph Boydstun                    MTP Drivetrain Services
Casey Brannigan                    Advance Autoparts
Thomas Braun                        Royal Purple
Curtis Burdick                        Attica Auto Supply/CARQUEST
Brian Burns                           Great Dane Trailers
Randy George                        Betts Company
Steven Goggins                      Caterpillar Inc
Steve Hansen                         Minimizer
Brian Jungmann                      SKF USA Inc.
Mark Kostecki                        Gates Corporation
Daniel Lewis                           Commercial Vehicle Group Inc.
Sam Marco                             Meritor
Kenyatta Matlock                    SKF USA Inc.
Thomas Muck                         The Timken Co.
Cynthia Norris                         AxleTech International
Nikki Paschall                         HDA Truck Pride
Steve Plomin                           ORAFOL Americas
Andrew Purcell                        Stone Truck Parts
Steven Quiet                           Sanel Auto Parts
Jaime Rogan                           VIPAR Heavy Duty
Timothy Sayers                       The Marx Group
Sharon Schafer                       FleetPride
David Shapiro                         SRS Marketing Company
Cameron Van Steenburgh        Quinte Truck & Trailer Parts
"This is the third Heavy Duty Leadership program we've held, and each year the class size increases," says Brian Cruickshank, University of the Aftermarket director, MAAP. "Obviously, the commercial vehicle aftermarket needs this kind of program, and we are pleased that this is turning into an annual event."
The program opened on Sunday, Aug. 3 at the Sloan Family Building for Aftermarket Studies with a keynote presentation from AxleTech Vice President and General Manager Joe Mejaly. He spoke to the class about his view of career management and leadership in the commercial vehicle aftermarket. The week also included other leadership and industry-focused sessions from faculty drawn from Northwood University's DeVos Graduate School of Management and the heavy-duty aftermarket industry, the University says.
"I really enjoyed hearing the different perspectives from around the industry and from different competitors and customers. The diversity of the class really added to the experience," says Paul Boggeman of Plaza Fleet Parts.
Graduates earned 3.5 continuing education units that can be applied toward their Automotive Aftermarket Professional (AAP) or Master Automotive Aftermarket Professional (MAAP) designations. To learn more about Heavy Duty Leadership and other University of the Aftermarket programs, call 1-800-551-2882, visit www.universityoftheaftermarket.com.