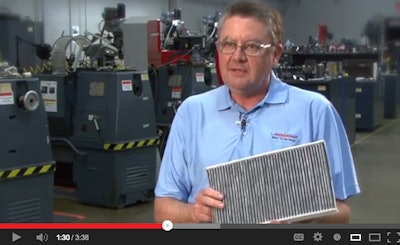 Fram Filtration has released a new video detailing the unique composition and benefits of its new line of Luber-finer Extreme Clean HD premium cabin air filters.
Highlighting the technology behind the function of a modern cabin air filter, the video is hosted by John Gaither, director of heavy-duty engineering for Fram Filtration.
According to Fram, the video is an educational tool that will provide useful information about the contaminants constantly assaulting a heavy-duty truck cabin and the protection provided by new technologies utilized by the Luber-finer Extreme Clean HD premium cabin air filter. While providing insights from Gaither on the unique construction of the filters, special features and change intervals, the video also illustrates the airflow patterns in a heavy-duty vehicle and dissects the construction of an actual Extreme Clean filter, the company says.
To find a copy of the video, check out Luber-finer's YouTube page. For more information on Fram and Luber-finer heavy-duty filtration products, please visit www.luberfiner.com.
[youtube kcHwimJlao4&feature=c4-overview&list=UUnJNZFaO4yjUJWi2wIsD4jw nolink]