With New Year's Resolutions about to again become en vogue, now is a good time to consider business ideas you could implement next week to benefit your operation. Technician mentoring, for example. The following report on Technician Mentoring was originally published on Sept. 22, 2015.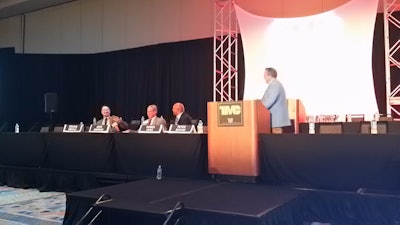 The S.16 Service Provider study group of the ATA's Technology and Maintenance Council (TMC) tackled one of the aftermarket's biggest problems with a discussion on technician mentoring at its Fall Meeting Tuesday in Orlando.
Led by Study Group Chairman Peter Savage of the Clarke Power Services, the panel discussion featured representatives from the fleet, OE dealer and truck stop businesses who are currently managing successful tech mentoring programs within their businesses.
Each panelist spoke highly of their programs, and the benefits mentoring programs can have in a service operation.
According to the group, mentoring allows service operations to build staff camaraderie, create a culture of learning and cooperation, and welcome new employees in a way other service operations may lack, says Homer Hogg with TA/Petro. Mentoring also shows new employees that you are committed to them as employees, says FedEx's John Sherman, because it immediately puts the new tech in contact with someone they can rely on. For new and young technicians, that reassurance is invaluable.
A mentoring program is "a vehicle for a new tech to buy into the culture and values of your organization," says DTNA's Dragan Brocilo. "The first year of a tech's career is crucial; you need to get them through that and [mentoring] is a way that can ease that transition."
The trio offered numerous tips for service providers puzzled on how to implement mentoring programs.
Hogg says it is first important to identify how expansive you want your mentoring program to be. A good program should offer more than just technical advice, but Hogg says the more you ask of a mentor, the less likely they will be able to continue performing their current tasks at their current rates.
Brocilo says many DTNA dealers use a mentoring framework that matches one new tech up with one mentor for general questions and guidance that is comprehensively supported by expert mentors in specific product areas. This allows the new technician to learn detailed information from the best teacher within any dealership while not putting strain on the general mentor-mentee relationship.
Mentor management is another important factor to a successful program. Hogg says mentors also need someone above to rely on and to help guide them to proper mentoring techniques.
"We show direct link to higher level management to work with mentor on regular basis," he says.
Sherman says a good mentor program also must include clearly identifiable, and measureable, goals. He says FedEx tracks the performance of its mentors and mentees to ensure both sides are benefiting and learning from the program.
The benefits of a well-designed mentor program are clear. Citing a Deloitte research report, Brocilo says retention rates are 25 percent higher for employees who have participated in a mentoring program.
And Sherman says that's a good number to fall back on when searching for management support to build a mentoring program in your business.
"When you lose someone or bring someone in, what is your fully allocated costs?" he says. "If you can define that, you can get the attention of the people upstairs."