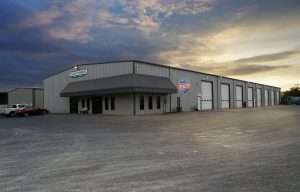 Utility Trailer Manufacturing Company announces Craftsmen Utility Trailer has expanded and completely renovated its Sikeston, Mo., dealer location.
"Our Sikeston facility was 25 years old and was in need of a 'facelift,'" says Lou Helmsing, president of Craftsmen Utility Trailer. "In addition, our business has grown tremendously during those years, so the remodel and expansion were needed to better serve our customers and make our employees more efficient."
Craftsman Utility says all areas of the facility – Sales, Parts and Service – were remodeled, and custom trailer counters were added in all three departments. Craftsmen also added a new retail parts showroom and a 3,300-sq.-ft. parts warehouse. This allowed the dealership to convert its existing parts area into two additional service bays, upgrading its service department to a total of eight service bays.
As part of the remodel, Craftsmen also added a new service entrance, service center, locker room and drivers lounge, the company says.
The address for Craftsmen's Sikeston facility is 127 Harlene Street, Sikeston, MO 63801, which is conveniently located at the intersection of I-55 and I-57. The toll free number is (866) 382-5388.