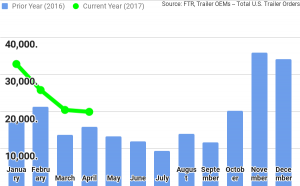 FTR reported on Friday final May net trailer orders at 16,600 units, down 17 percent month-over-month but continuing to show strong year-over-year comparisons, up 26 percent versus a year ago.
FTR says May trailer orders started the typical seasonal decline after two months of stronger than expected activity.  Most segments experienced month-over-month reductions, except for liquid tanks and lowbeds, each of which had small increases.  Trailer orders have now totaled 253,000 units for the past twelve months.
"This was a very typical month for the trailer market. Business activity met expectations, with few surprises. Refrigerated trailers appear to be weakening a bit faster than expected, but sales had been so strong, for so long, this had to happen eventually. The vocational (non-van) segments have stabilized and continue to make a moderate recovery," says Don Ake, FTR vice president of Commercial Vehicles.
Additionally, FTR says backlogs fell 7 percent and remain 15 percent below a year ago; production was up 3 percent from April on a per-day basis.
"It still looks like a great year for the trailer market," says Ake. "Replacement demand remains vibrant in the dry van segment and steady in the other segments.  Expected increases in freight volumes is creating expansion demand in many segments.  This should provide decent market momentum rolling into 2018."