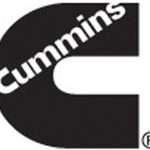 Cummins laid out its road map for entering the electrified powertrain marketplace during a conference call Wednesday, claiming it plans to have a fully electric powertrain for commercial and industrial vehicles available in the marketplace by the end of 2019.
"As a global power leader for the commercial and industrial markets we serve, we are better positioned than any other company to win in new and emerging technologies," says Tom Linebarger, Cummins' chairman and CEO.
"Over the past 100 years, our ability to innovate and adapt has fueled our success and we are confident we are on the right path to do it again at this critical juncture. We are prepared to provide a range of power technologies to our customers from diesel and natural gas to fully electric and hybrid powertrains to ensure they always have the best solution for their application."
Linebarger and Cummins' other executives say the business has no plans to alter its current operations in the diesel and natural gas marketplaces, it hopes to complement them with new electrification technologies.
"We are not just a diesel engine company," Linebarger says. "We are a power technology company."
Julie Furber has been named executive director of Cummins' new Electrification Business Development unit. Furber says her team believes its earliest fully electric powertrains will fit best in the transit and pickup and delivery markets.
"We know we can be the leader in urban transportation," Linebarger says.
These new developments will drive Cummins to invest significantly more revenue into its annual R&D budget, Linebarger says. "We are stepping up our level of spending," he says. "We are ready and willing to innovate on behalf of our customers."
Additionally, Cummins says it is exploring potentially partnering with others to ensure development of leading technology in energy storage, power electronics, traction motor systems and component control for commercial applications.
Cummins also on Wednesday's call formally introduced its Digital Accelerator, a new internal organization that seeks to streamline innovation, bringing concepts from the idea stage to commercialization at the most efficient and effective pace.
Led by CIO Sherry Aaholm, Cummins' Digital Accelerator will aid customers looking for convenient and responsive interactions, real-time updates, and information that make products safer, more productive and easier to use. Cummins has offered telematics systems in some markets for many years, but the potential for digital goes far beyond telematics systems and at a faster pace, the company says.