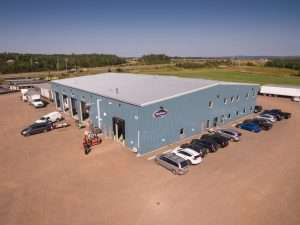 North East Truck and Trailer Sales has completed the development of its new facility in Truro, Nova Scotia, Canada.
"We've moved from an old 2-bay service facility on 2 acres of land into a completely modern facility with 8 service bays on 6.5 acres of land," says Andy LeBlanc, general manager of North East Truck and Trailer Sales. "Our business has been growing and we couldn't deliver the kind of productive service that we want to provide our customers."
The new facility is handicap accessible and includes a driver's waiting area complete with customer Wi-Fi and free coffee. A high-pressure wash is also available to clean the trailers. The new facility comprises a 5,000-sq.-ft. parts warehouse, a 4,200-sq.-ft. parts showroom, and a 7,500-sq.-ft. service center with four drive-through 129 ft. service bays that will hold eight 53 ft. trailers.
"Our facility is in a major hub in Nova Scotia," says LeBlanc. "Visible in all directions, it is at the largest intersection in Nova Scotia on the Trans-Canada Highway. All traffic traveling to and from Newfoundland, New Brunswick and the port city of Halifax travel through here."
The new North East Truck and Trailer Sales facility is located at 83 Hub Centre Drive, Upper Onslow, Nova Scotia, B6L 0C8. It is near the Trans Canada Highway and Nova Scotia Highway 102, just off Onslow Road.