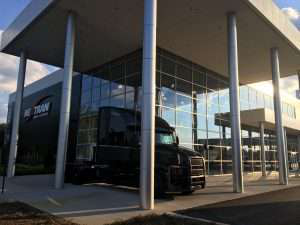 Nextran Truck Centers' new location just northeast of Atlanta hasn't even been open six months, but its already a crown jewel of Mack Trucks' dealership network.
"There couldn't be a better example of what we hope to emulate to our customers," says Jonathan Randall, Mack's senior vice president of North American sales.
The 55,000 sq.-ft. facility features 30 service bays, $1 million in parts on-hand and a plush driver waiting area complete with showers and a laundry room.
The new location is the third Nextran Truck Center in the Atlanta area, but holds distinction as the company's largest, most technologically advanced site.
Jon W. Pritchett, president and CEO, Nextran Corporation, called the new facility the company's flagship location, adding the search for suitable property along Highway 85 took his family two years.
The company broke ground October 2015 and construction took 20 months.
The dealership served as a staging area for a small fleet of Mack Anthem tractors, along with a redesigned Mack Pinnacle and Mack Granite as the trucks made their way from Allentown, Pa. to Atlanta for the North American Commercial Vehicle Show next week.
The Atlanta-area truck center's service shop features an overhead crane spanning 112 feet, with a separate area for repair of vehicles powered by natural gas. It also has a fast-tracked write-up service area, FSX DPF cleaning, quick lube bay, advanced diagnostic computer systems and factory trained personnel in all departments.
Nextran, which has been a Mack dealer for 24 years, currently has 15 locations throughout Florida, Georgia and Alabama.