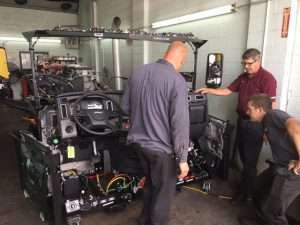 Fyda Freightliner last week took delivery of a New Cascadia simulator which will be used as a core piece of training for the company's 106 service technicians that work at its seven locations in Kentucky, Ohio, and Pennsylvania.
The simulator was supplied by Daimler Trucks North America, and includes a fully-functioning dashboard which can be connected to and run the Detroit Diesel GHG17 training engine, allowing the technician in training to see the interaction between the tractor and the engine.
"I am so excited to begin using the New Cascadia simulator for our service technician training sessions. It allows much more interactive training without needing to use an actual tractor," says Rick Higinbotham, Fyda Freightliner company trainer.
"It's a great training aide for me as well as our student technicians. During our training sessions, the student technicians will be able to see and do much more on the simulator as compared to a truck tractor, such as component removal and testing that wouldn't normally be able to occur when using an actual truck tractor."
The New Cascadia simulator is a fully-functioning training aide. It includes the vehicle ECU (electronic control unit), interactive ICU (instrumental control unit), all switches, motors, door control modules, lighting, adjustable mirrors, blend air (HVAC), and more. DiagnosticLink 8, computer based diagnostic program, connects to the simulator and is fully functional.