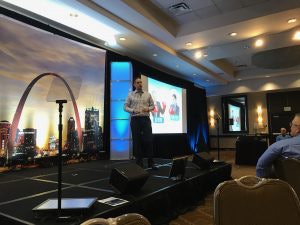 A lot has been written and said about the generational gap in today's workforce. There are four generations active in business today and a fifth on the way. Matt Havens says that's just a fact. But Havens says the reason the managing these generational differences remains such a challenge in many companies is because too often, everyone believes each generation must be addressed differently.
He says not only is that not the case, it's impractical.
"You cannot be in one generation simultaneously fighting against three other generations," Havens told the audience during his keynote address Thursday at the 2018 Karmak Conference in St. Louis. "If you've ever heard someone say, 'a two-front war is a bad idea.' A three-front war is impossible."
Havens says bridging generational gaps require a willingness to forget about those generations to an extent. He says no experienced employee will call out "Generation X" or "Millennials" when dealing with a challenging young employee, nor does that same youngster lament the "Baby Boomer" aspect of his manager's personality.
Nope, Havens says in the moment, everyone is either young or old. And because that's how people actually perceive one another, Havens says that's how employees should communicate with each other in the workplace.
He says the best way to do that isn't to insist one generation defer to another, or demand one generation abandon their character traits so everyone is the same; it's to educate both young and old people on why different generations view the world like they do.
Havens told the older attendees Thursday there is "a difference between how young people grew up and how you grew up" and it is in understanding and accepting those differences that multi-generational workforces can truly become one.
Havens, who identified himself as a young person and millennial, says one of the most important things older people should understand about his young contemporaries are that they are among the "loneliest people to ever walk the earth." He says since millennials have been able to see, they have been exposed to a media-dominated culture and "staring at a world that is richer, better looking and more interesting than they are." Havens says young people don't job hop for unrealistic pay and workplace demands, they're searching for relationships and human connections with co-workers and employers who care about them.
Conversely, Havens told the younger audience Thursday that there's a reason the companies they work for are slow to adapt and change. He says, "older people like doing things the way they've always done it because the way they've always done it has generally worked." He also stressed to the young people in the room that while some of their ideas might be great ones, they shouldn't expect immediate implementation and validation for them, nor should they expect their employers to treat them like the CEO after sharing one good idea.
"Advancement is a process, not a right. You earn that," he says.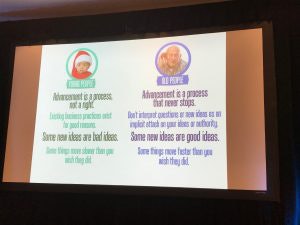 Havens then provided both segments a few key takeaways to help better understand each other:
What old people can do to meet young people halfway
Remember loyalty is earned and should not be assumed.
Get to know your younger colleagues as people not just as co-workers.
Ask for their opinions and ideas and let them know you are actually listening.
Get to know what they want out of job and above the salary and benefits.
Appreciate that the world seems to changing faster for your than it does for your younger employees.
Realize that not all new ideas are bad ideas.
What young people can do to meet old people halfway
Appreciate the fact that advancement is a process.
Let them know you respect their experience and consult them to learn their strategies for success.
Understand that your company's practices and processes exist for a reason.
Realize that not all new ideas are good ideas.