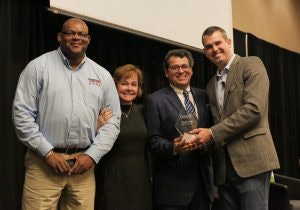 Four Star Freightliner, led by dealer principal Jerry Kocan, was named the recipient of the 2018 Successful Dealer Award Tuesday. The award was presented by Successful Dealer Editor Lucas Deal with sponsor representation from Automann, Premium 2000/National Truck Protection and Interstate Billing at the 2018 Randall Reilly R-Squared Marketing Summit in Tuscaloosa, Ala.
Four Star Freightliner earns this year's award after being a finalist for the first time in 2017. Founded by Kocan in 2000, Four Star Freightliner operates six locations in three states.
"It is humbling just to be nominated. It really is," says Kocan. "We started out from two little stores in Alabama and to receive recognition with dealers who are much bigger than we are … I take it as a compliment to my people and what they have done."
Four Star Freightliner was selected from another wonderful list of finalist candidates due to its impressive investments in employee education and development, community activism and support of the dealer market and trucking industry at large.
Regarding the latter, the dealer group donates heavily to technical education, providing scholarship funds, training materials and curriculum guidance to multiple regional programs. Four Star Freightliner also supports regional programs that assists veterans who are at risk of becoming homeless or who are currently homeless to provide housing and career opportunities. Coupled with the company's Zachary Sizemore memorial scholarship — named for a former employee who died at age 32 of cancer — Kocan and the Four Star Freightliner team continues to invest heavily in their employees and their community.
"We believe it is important that we invest in the communities in which we operate because that's where our people are and that's where our customers are," says Kocan. "It is so much more rewarding to our employees."
Kocan tries to reward them in turn with an engaging and inviting corporate culture that encourages employee commitment, rewards strong work ethic and promotes internal career path development at all times.
"My theory is if you treat your people well, they will treat your customers well and that's what we want to do every day," he says.
Four Star Freightliner joins TEC Equipment (2013), Truck Centers Inc. (2014), Freightliner of St. Cloud (2015), River States Truck and Trailer (2016) and Inland Kenworth (2017) as the sixth winner of the Successful Dealer Award. Other finalists this year included past winner River States Truck and Trailer, as well as Gordon Truck Centers, The Larson Group and Truckworx Kenworth.