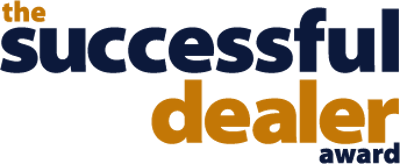 One Peterbilt dealer and four operations representing Daimler brands Freightliner and Western Star have been selected as finalists for the 2019 Successful Dealer Award, sponsored by Automann, Interstate Billing and Premium 2000/National Truck Protection.
Now in its seventh year, more than 30 North American medium- and heavy-duty truck dealers were nominated by the trucking industry for this year's award. After a semifinalist selection process last week cut the nominated dealer pool in half, the five dealers selected this week as finalists for this year's award are:
Doggett Freightliner of Arkansas (North Little Rock, Ark.)
Kansas City Freightliner (Kansas City, Mo.)
The Larson Group (Springfield, Mo.)
Truck Center Companies (Omaha, Neb.)
Truck Country/Stoops Freightliner-Quality Trailer (Dubuque, Iowa)
This year's finalists are no stranger to the Successful Dealer Award program. Though none have won the award in the past, four are prior finalists. Truck Country earned consecutive nominations in 2013 and 2014 as Stoops Freightliner, then again in 2016 as Truck Country. Doggett Freightliner (2015, 2017) and The Larson Group (2018) also are prior award finalists, and Kansas City Freightliner's dealer group Westfall-Odell was nominated in 2016.
Rounding out this year's finalists is Truck Center Companies, home to CEO Trey Mytty, the 2019 American Truck Dealers (ATD) Dealer of the Year.
Judging criteria for the Successful Dealer award is based on each company's environmental/green efforts; community involvement and civic responsibility; customer education; staff education and training and marketing.
Trucks, Parts, Service, the new home of the Successful Dealer Award, will profile each of this year's finalists with multiple articles over the coming months and will announce the winner of the 2019 Successful Dealer Award at the Great American Trucking Show in August in Dallas.
The company's named as semifinalists for this year's Successful Dealer Award are: H.K. Truck Center; Mid-State Truck Service; Midwest Peterbilt Group; Premier Truck Group; Quad City Peterbilt; River States Truck & Trailer; TEC Equipment; Young Truck Sales.