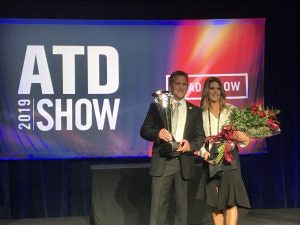 Trey Mytty, president at Truck Center Companies in Omaha, Neb., was named the 2019 American Truck Dealers (ATD) Dealer of the Year, presented by Heavy Duty Trucking and Procede Software Saturday at the ATD Show 2019 in San Francisco.
Mytty first entered the dealer market as a teenager with a summer job washing trucks at what was then Omaha Truck Center. He joined the business full-time as a truck sales representative after college, and advanced through the business to eventually execute a leveraged buyout and take over the business in 2007.
Mytty's leadership was faced with an uphill challenge from the start as the trucking industry stumbled into the Great Recession in 2008. Despite the unfortunate start, Mytty was able to navigate the business through the trough and it has grown it ever since. Today, Truck Center Companies has eight total facilities across Nebraska, Kansas and Iowa and represents Freightliner, SelecTrucks, Freightliner Custom Chassis, Western Star, Thomas Built Buses, Ottawa and Isuzu franchises.
In accepting his award Saturday, Mytty was gracious and humble, heaping praise on Truck Centers' 575 employees who helped position him to earn the award.
"This is really their award for what they do for us every day," he said.
Mytty also has been active at Truck Center Companies in fighting the dealer channel's biggest active problem, the technician shortage. Mytty and Truck Center Companies donates to multiple area technical schools and the company has developed a 16-week training curriculum to integrate young professionals into the industry. On Saturday, Mytty urged his dealer contemporaries to take similar activity in their operations.
"One of our biggest challenges is attracting people into this industry," he said.
Mytty beat out finalist Terry Minor from Cumberland International Trucks in Nashville, Tenn.; David Kriete from Kriete Truck Centers in Milwaukee, Wis.; Kim Mesfin from Affinity Truck Center in Fresno, Calif.; and John Nichols of Palmer Trucks in Indianapolis to win the award.
Procede Software CEO Larry Kettler was excited to honor Mytty for his work.
"It is an honor to share the stage for the fifth year in a row with this year's nominated leaders who exemplify an exceptional, well-rounded influence on the commercial trucking industry," he said. "We are truly privileged to work with some of the brightest minds in the industry, such as these nominees, every day."
The ATD Dealer of the Year award is a career achievement award. The evaluation process measures dealers on their company's success, individual leadership (within their businesses and the industry), community involvement and integrity.