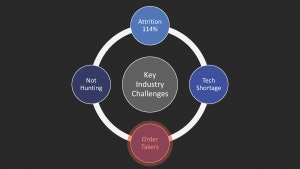 Running a dealership today is a challenge. That's not up for debate.
But addressing those challenges? GPA Training President Ian Coburn says that's a conversation that can go many directions. During a webinar Thursday, Coburn shared his thoughts on what he believes are the biggest challenges facing medium- and heavy-duty truck dealers and how he believes they can be solved.
Coburn says some of the industry's biggest issues are employment-based problems.
He mentions not only trucking's significant technician shortage but also the way the trucking industry is evolving, or failing to evolve, to better manage the number of Baby Boomers who are retiring from the industry and the Millennials and Generation Z stepping into the market to replace them. Coburn says those latter generations — groomed on technology in a hyper-connected world — have different career goals and expectations than their predecessors. He says statistics indicate a Generation Z professional, also known as iGen, will have 18 to 23 jobs in their career, many of them in different industries. This isn't a generation that's going to hang around for 40 years for that gold watch.
"Millennials and iGen don't value the same thing as us," says Coburn, "and yet we keep treating them like they do."
Regarding technicians, Coburn says the best path forward he sees for the trucking industry is through marketing. He says dealers can't sit back and wait for talented technicians to walk through their front door, nor can they expect poaching quality talent from competitors to be a viable long-term business strategy. Coburn says the dealer community must step up and start promoting the opportunities a technical career can provide, adding high schools and vocational schools should be ground zero for generating interest in the industry.
He also adds when going to these schools, don't overdo it. Provide valuable information that piques a student's interest in a way that motivates them to communicate with you in return.
"We want to use marketing that creates questions, so they have to talk to us," he says.
Then there's sales. Coburn says selling in today's dealer market has never been harder. The sheer number of competitors is daunting, and each new entrant to the market brings a new value proposition designed to capture a customer's attention. Coburn says that's where soft skills come in. He says dealers willing to invest time in training their associates to interact with customers (and each other) have a leg up when courting and keeping customers.
And how does a dealer know if their associates require soft skills training?
Coburn gives examples. He says employees that make a customer responsible for sales — i.e., giving them only what they ask for — and fail to sell related parts and/or convert leads are likely in need of some soft skills training. The same can be said for a sales team that hides behind the 80/20 rule. He says soft skills enable associates to better with all customers, not just the highest volume ones. They give dealers an important edge in "warding off the competition."