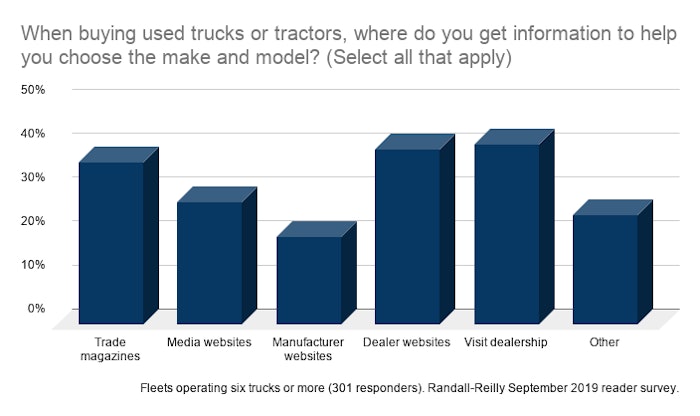 Print periodicals have been the dominant marketing resource for moving used trucks and trailers for decades. But according to a recent survey conducted by Randall-Reilly (publisher of Trucks, Parts, Service), print's position on the cutting edge of the used equipment marketplace is rapidly approaching its end.
Like nearly every other industry on earth, used truck and trailer buyers are becoming increasingly reliant on the Internet to help them make their next equipment purchase. While that doesn't mean used equipment sellers allocating all their marketing budget exclusively to legacy print products can't still move inventory in that manner, it is unquestionably getting harder.
Today's used truck buyer doesn't want to thumb through a gallery of trucks that were available 10 days ago in a print periodical if he can instead see what's available this instant online. He also wants as much information as possible, not as much as could fit on a page.
For those dealers still hunting for the right marketing approach to move used assets, Randall-Reilly's September 2019 survey indicates investing in one's own website and sales team is likely the most direct way to reach customers and sell equipment faster.
According to more than 300 fleets operating at least six power units, Randall-Reilly has discovered on-site visits to dealerships (41 percent) and exhaustive research on dealer websites (40 percent) has exceeded print trade publications (37 percent) as the most popular method used equipment buyers rely on to acquire information about their next truck or trailer purchase.
Conversely, among nearly 300 responders representing owner-operators and fleets of five trucks or fewer, Randall-Reilly's survey discovered that while trade publications still maintain their marketing edge for owner-operator purchases — 54 percent to 42 percent over dealer visits — dealer websites (42 percent) and on-site visits (41 percent) are becoming nearly as popular as those same print periodicals (45 percent) for two- to five-truck operations.
These statistics are even more illuminating when broken down on a per-year purchase basis. Among fleets (operating six or more trucks) purchasing between six and 100 used trucks per year, dealer websites and site visits are consistently more popular research methods than print publications. Also more popular among this purchasing cohort are OEM-licensed used truck websites and personal relationships with fellow buyers and wholesalers.
But Randall-Reilly's survey also discovered that while used equipment buyers are becoming more accepting and reliant on Internet-based research, they also believe online tools aren't without their flaws.
From owner-operators to fleets purchasing more than 500 trucks per year, all were in agreement that inadequate equipment history/condition information on websites remains their biggest complaint when looking online for their next used purchase. Online listing sites don't suffer from the inventory timeliness challenge faced by their print competitors, but in cases where they limit the amount of information a used equipment seller can submit or present with their listings, they do weaken that seller's ability to reach a potential customer.
So, what research method do small and large used truck customers always appreciate? Word of mouth, of course.
Owner-operators and large fleets, alike, responded in droves when asked in Randall-Reilly's survey as to their other most preferred research tactics.
Said one owner-operator, "[I'll] check Facebook. Talk to operators of similar trucks and see how their trucks are performing." Another offered a similar sentiment. "The most useful information comes from other owner-operators," he said. "People who have actually ran the equipment and know it."
Fleet responders were equally candid, noting conversations with sellers (fleets and dealers, alike) are often more informative than any website listing or page in the newspaper. When a test drive isn't an option, a conversation can be the next best thing.
Said one fleet that purchases 10 to 24 used trucks per year, "We want to hear from drivers who operate the truck of interest." Added a second responder who purchases used trucks at a similar annual rate, "I go by what I know and by what other truck owners tell me."
Trucks, Parts, Service will have more used equipment purchasing trends and successful tactics for moving used inventory in our November 2019 issue.