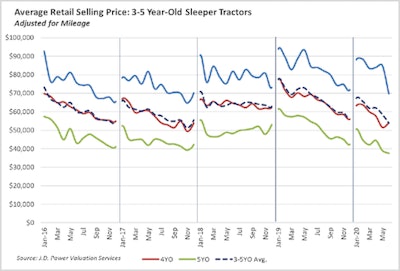 The following is a sidebar from a 12-part feature from Trucks, Parts, Service on the state of the used truck market. CLICK HERE to return to our cover story.
With the retail and auction markets slowly recovering from the shock experienced by COVID-19, it's important for used truck dealers to understand market segments where demand is returning — and where it's not.
Learn how to move your used trucks faster
With unsold used inventory depreciating at a rate of more than 2% monthly, efficient inventory turnover is a must for dealers. Download this eBook, "Sold! Best Practices for Moving Used Trucks," to access proven strategies for selling used trucks faster.
In the Class 8 market, Chris Visser, J.D. Power senior analyst and product manager, commercial vehicles, says daycabs and "long and tall" owner-operator trucks have held their value the best through the first half of 2020. Visser attributes this to volume, particularly the surplus of conventional late-model sleepers available and the smaller carriers likely relying on the used market to supplement their fleet right now.
Regarding large carriers, he notes, "I think those fleets still have plenty of parked trucks to use."
High-volume sleepers also have poured into the wholesale and auction markets where they continue to be tough to sell, says John Whitnell with KEA Advisors.
"There are a lot of alternatives to high-dollar, late-model, used linehaul tractors right now. Moving these pieces has been a challenge," he says.
Whitnell adds the used Class 5-7 market has weakened after years of stability, with supply finally trending higher after a period of lower production. "The demise of the DT466 engine now ensures that almost all used Class 5-7 equipment has the same drivetrain," he says. "This lack of product differentiation and higher supply will start to move used Class 5-7 prices lower in 2020. It will continue in 2021 and 2022."