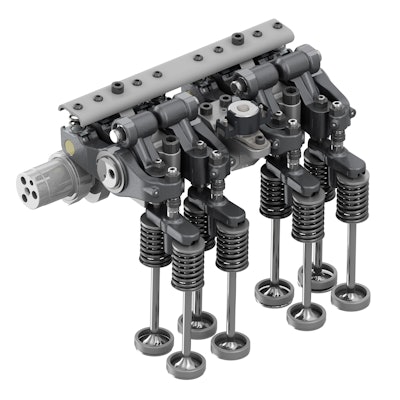 There seems to be an endless list of ways to improve fuel economy, reduce emissions and advance sustainability initiatives.
Engine makers like Cummins are working on what they call agnostic engine platforms designed for diesel, natural gas and hydrogen. Fuel sources such as compressed natural gas, renewable natural gas, methanol, ethanol, renewable diesel, hydrogen-based fuels and others also can help fleets meet their environmental goals.
[RELATED: Cummins says agnostic engines will increase sales opportunities, reduce maintenance complexity]
This new technology revolution also is requiring advancements from associated component manufacturers.
"As commercial vehicles manufacturers work on ways to comply with stricter emissions standards, especially those focusing on CO2 and NOx, suppliers need to develop products that are compatible with the new vehicles," says Jacobs Vehicle Systems' Robb Janak, director new technology. "We wanted to make sure the engine brake in the alternative powered engines could provide the performance fleets have come to rely on."
As fleets shift to these alternative fuel solutions, they will notice a decrease in the vehicle's ability to slow down or maintain a proper speed on grades when using the engine brake. This is due to a reduction in the engine compression ratio associated with spark ignited fuels compared to compression ignited fuel (diesel). This places an additional burden on the foundation brakes, which can create drivability problems.
Jacobs says it is addressing this by developing a new advanced braking system called High Power Density (HPD).
HPD combines cylinder deactivation and braking technology to achieve significantly more engine brake performance. When applied to alternatively fueled engine, Jacobs says HPD enables brake power to meet or exceed the brake performance of a diesel engine. HPD engine brakes also complement downspeeding, aerodynamic improvements, reduced rolling resistance and the other fuel savings solutions that decrease the natural retarding of the vehicle, which then needs to be compensated for by the vehicle's retarding systems.
Jacobs says its HPD's technology realizes up to 1.5 times the available braking performance of traditional compression release engine brakes.
HPD technology is modular and integrated into the engine valvetrain. Jacobs' cylinder deactivation technology is coupled with a traditional dedicated cam braking system to enable two compression release events per cam rotation instead of one.
Jacobs says an ECU controls the HPD's electronic technology and also interfaces with the vehicle's adaptive cruise control, electronic stability technology, road speed limiter, ABS and transmission-related functions.
And, as with any other traditional compression release engine brake, the HPD brake can be controlled by the driver. This results in a positive experience for the driver because extensive downshifting is avoided while the system delivers higher braking power at lower RPM.
Janak adds, "As manufacturers continue their work on a lowering emissions, Jacobs will continue to develop cost effective products that work with diesel engines as well as alternatively fueled engines in order to meet the needs of fleet owners."