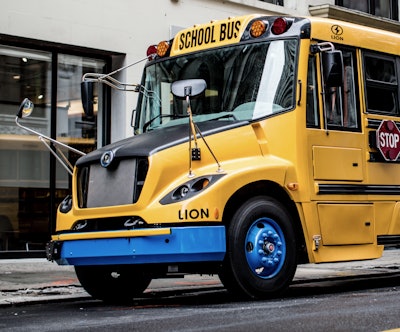 The Lion Electric Company announced it has received a conditional purchase order for 1,000 all-electric LionC school buses from Student Transportation of Canada (STC), a subsidiary of Student Transportation of America (STA), a North American leader in student transportation, safety and fleet management services, whose controlling shareholder is Caisse de dépôt et placement du Québec (CDPQ).
In addition, Volvo Trucks recently made a couple announcements regarding its VNR electric trucks.
The Lion purchase order is conditional upon the satisfactory grant of non-repayable contributions to STC under Infrastructure Canada's Zero-Emission Transit Fund (ZETF), for which STC has filed a formal application. Under the ZETF program, the Government of Canada aims to invest $2.75 billion over five years to support public transit and school bus operators in the transition to electrification.
If confirmed, this purchase order would allow STC to become the largest operator of zero-emission school buses in North America. This investment would also contribute to CDPQ's portfolio decarbonation objectives. Deliveries would begin in 2022 and occur through the first half of 2026. These electric buses would replace existing diesel vehicles within STC's Canadian fleet. The operator plans on working closely with its customers and partners to determine which school boards would adopt the electric buses if fulfilled.
Lion estimates that the deployment of 1,000 all-electric school buses would help eliminate approximately 23,000 tons of greenhouse gas emissions per year, in addition to significantly reducing noise pollution for the communities in which they operate.
"We applaud STC for its leadership and vision to accelerate the deployment of all-electric school buses in Canada, and we thank them for trusting Lion with such an important transition," says Marc Bedard, CEO and founder, Lion Electric. "This large-scale deployment would position Canada as a clear leader in the electrification of school transportation, in great part due to innovative programs like the ZETF. We are proud to be working together with STC, the Caisse de dépôt and the Canadian Federal Government to provide a cleaner future for our children," he concluded.
"We are pleased to support electric school bus deployment in Canada. The ZETF enables school bus electrification to move closer to reality, with students as the true beneficiaries," says Chris Harwood, president of Student Transportation of Canada. "There is still much more work to be done, but STC recognizes that as global stewards we must act to operate sustainably. Electrification is a huge step toward improving the environment for our students and the communities we serve. We look forward to working with Lion, government leaders, our majority shareholder CDPQ and our customers. Together, we hope to move toward a sustainable future."
"As the controlling shareholder of Student Transportation, we are delighted to support the company in its green shift, with the deployment of a fleet that would make it the largest operator of zero-emission school busses in North America. Driving the next generation to their place of learning in electric transport is a good illustration of our vision for a more sustainable future. This ambitious program, carried out thanks to Lion, the Quebec leader in electric transport, will directly contribute to our commitment to reduce the carbon intensity of our portfolio by 60% by 2030," says Emmanuel Jaclot, CDPQ executive vice-president and head of infrastructure.
Volvo EV news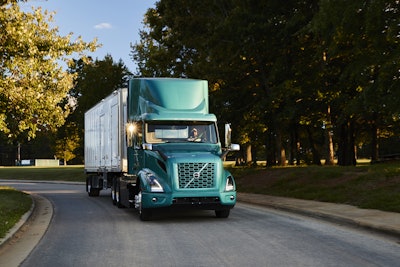 Volvo Trucks North America's customers and carrier partners, Watsontown Trucking Company and Camrett Logistics, have placed orders for their first Volvo VNR Electric trucks. By the end of 2021, the Virginia-based fleets will utilize the zero tailpipe emission trucks to transport inbound parts and components daily to the Volvo Trucks New River Valley Assembly Operations (NRV) in Dublin, Va., where every Volvo truck in North America is assembled. The Volvo VNR Electric model entered serial production at NRV earlier this year.
"An important part of Volvo Trucks' sustainability strategy is to reduce CO2 from our own operations globally and putting the Volvo VNR Electric to work, servicing our NRV operations. This initiative with Watsontown Trucking Company and Camrett Logistics presents an exciting opportunity to continue partnering with fleets that were already servicing our local NRV logistics routes, and to utilize Volvo VNR Electrics to reduce the carbon footprint of our own supply chain," says Peter Voorhoeve, president, Volvo Trucks North America. "We are excited to see the first deployments of our battery-electric model in Virginia, and glad to have the support of our local dealer, Nacarato Truck Centers, to ensure a positive customer experience after the sale."
The two Volvo VNR Electric models ordered through this initiative, which was first announced in August 2021, will be the first battery-electric trucks deployed in each company's fleet. The trucks will complete 10 to 12 roundtrips per day as they travel from their local warehouse facilities to NRV. The Volvo VNR Electric's 264-kWh lithium-ion batteries have an operating range of up to 150 miles. Regenerative braking can increase range by returning up to 15 percent of the power back to the battery, depending on the duty cycle. Both fleets will recharge their Volvo VNR Electrics at their local facilities.
Watsontown Trucking Company operates a fleet of 425 trucks that perform over-the-road transport, as well as regional haul and last-mile delivery — two ideal applications that the Volvo VNR Electric model was designed to support. The valuable insight and hands-on experience Watsontown will gain by operating the battery-electric trucks for its NRV supply routes will contribute to the company's future battery-electric truck deployments plans and support their sustainability goals, according to an announcement.
"Electrification is the future, and we pride ourselves as being a leader in the industry. As a SmartWay-certified carrier, our focus has always been on sustainability and decreasing the carbon footprint of our operations. Volvo Trucks has the same mission, so we were happy to partner with them to deploy our first of what we expect to be many battery-electric trucks," says Steve Patton, president of Watsontown Trucking Company.
Camrett Logistics operates a fleet of 18 Volvo trucks, and the Volvo VNR Electric will be the company's first battery-electric truck. By operating their Volvo VNR Electric on short-haul runs to and from NRV, both Camrett Logistics and Volvo Trucks will have the opportunity to gather real-world data that can assist with the ongoing expansion of zero-emission logistics nationwide.
"Here at Camrett Logistics, we have a goal to be 100 percent carbon neutral by 2030. This goal drove our decision to participate in this initiative with Volvo Trucks and to take a leadership role as one of the first fleets in Virginia to deploy a Class 8 battery-electric truck," says Collin Peel, founder and CEO, Camrett Logistics. "Volvo Trucks is a longtime partner, and this is a great opportunity to have input from its engineers and guidance for this project right in our own backyard."
Camrett Logistics is also making investments in solar panels to power all their facilities with a goal of electrifying all the Class 8 trucks in their operations. The Volvo VNR Electric will be serviced at the local Volvo Trucks dealership, Nacarato Truck Centers, in Roanoke, Va., which is working toward becoming a Volvo EV Certified Dealership. Camrett Logistics is also working to train technicians at its own shop to service electric trucks.
Volvo Trucks also announced Producers Dairy, a Central California-based dairy processor and direct-to-store supplier, has placed an order for two Volvo VNR Electric trucks — anticipated to be the first commercial battery-electric Class 8 trucks to be deployed in California's Central Valley.
In late 2021, these zero-tailpipe emission VNR Electric models from Volvo Trucks North America will begin to service Producers Dairy's fleet routes from its Fresno, Calif., manufacturing facility to grocery stores in communities along the 40-mile stretch of Highway 99 from Selma to Madera, California.
"Volvo Trucks commends Producers Dairy for its commitment to supplying its locally and naturally produced products in an environmentally friendly way and for its leadership in being the first Central Valley fleet to deploy Class 8 battery-electric trucks," says Voorhoeve. "This collaboration with our dealership partner, Affinity Truck Center, to support Producers Dairy is a perfect example of how companies who have very clear sustainability agendas can make meaningful progress on the path toward widescale commercial deployment of Volvo VNR Electrics and pave the way for decarbonized transport solutions."
Producers Dairy is a third-generation family business run by the Shehadey family that delivers quality, farm-to-table freshness. With a focus on nourishing lives, they prioritize the health of their community from the care of their cows to the delivery of their naturally produced dairy products. The two Volvo VNR Electric units will be the first battery-electric vehicles in the company's fleet of more than 300 trucks, allowing them to add zero tailpipe emissions delivery to their list of efforts to improve the sustainability of their entire operations. To support the charging of its battery-electric fleet, Producers Dairy has installed two 150 kW DC fast chargers at its Fresno dairy processing facility with the ability to upgrade for future capacity, according to an announcement.
"Producers Dairy is excited to partner with Volvo Trucks on our first deployment of zero tailpipe emission battery-electric Class 8 delivery trucks," says Scott Shehadey, president, Producers Dairy. "Our company's purpose is to nourish lives one at a time. This investment is one more positive step in our journey to nourish our local communities."
Incorporating maintenance, full coverage on components, towing and uptime services, the Volvo Gold Contract offered with the Volvo VNR Electric brings operational peace of mind and is the first service contract of its kind from Volvo Trucks North America. To fulfill the Volvo Gold Contract and support Producers Dairy and other local fleet operators in maximizing uptime for their Volvo VNR Electrics, Affinity Truck Center's Fresno dealership is working toward becoming the first Volvo EV Certified Dealer in the Central Valley.
To safely and efficiently perform battery-electric truck maintenance and repairs, Affinity Truck Center's service team is participating in robust training, while the sales team is preparing to consult regional fleets who are considering investing in the Volvo VNR Electric for local and regional distribution, pickup and delivery, and food and beverage distribution. In addition, the dealership is working to install heavy-duty-capable charging infrastructure onsite.
"Affinity Truck Center looks forward to working with both Volvo Trucks and Producers Dairy to gain and grow the hands-on experience needed to support supply chain electrification efforts in the Central Valley," says Kim Mesfin, president, Affinity Truck Center. "As we finalize the steps to become a Volvo EV Certified Dealer, we are looking forward to working with our customers to ensure they have access to a highly trained sales force and technicians, as well as the charging infrastructure needed to achieve a seamless integration of battery-electric trucks into their fleet."
Producers Dairy secured funding for the Volvo VNR Electrics from Voucher Incentive Program (VIP) Plus-Up funding. The Plus-Up funding is made possible through a partnership between South Coast Air Quality Management District (AQMD) and Mobile Source Air Pollution Reduction Review Committee (MSRC).