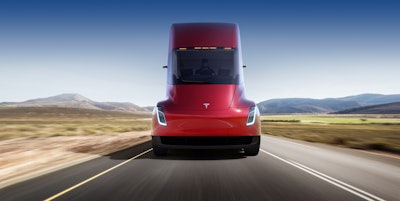 Tesla's fully electric Class 8 has been delayed three times and is more than two years overdue, but company founder Elon Musk said Wednesday the company still planned to kickstart production on his vaunted Semi next year.
Semi was included in a list of Tesla products that are in the company's pipeline, including Cybertruck, Roadster and Optimus, that Musk expects to "do a lot of engineering and tooling and whatnot to create those vehicles," he said, "and be ready to bring those to production hopefully next year."
Optimus – a humanoid robot Tesla introduced last August – Musk said would be among the company's priorities this year. "I think, actually, the most important product development we're doing this year is the Optimus humanoid robot. This, I think, has the potential to be more significant than the vehicle business over time."
When the sleek zero-emission tractor was unveiled in 2017 in Hawthorne, California – the home Tesla Motors' design center and company founder Elon Musk's SpaceX rocket factory – production was penciled in for 2019, and orders began to trickle in from the likes of UPS, FedEx, PepsiCo, Anheuser-Busch, J.B. Hunt, Walmart and others.