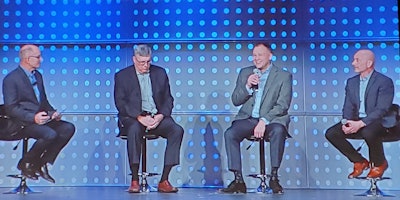 Electric trucks are here and as their numbers continue to grow, it's requiring distributors, dealers and suppliers to consider what the new technology means for their businesses.
"It's been an interesting journey for us as we try to figure out where we put charging stations, how do we train technicians, how do we scale, what's going to happen with the technology over time," said Mike Eppes, managing vice president of operations, Rush Enterprises, during the session "Glimpsing the Aftermarket's Future: Imminent Commercial Vehicle Technologies" held Monday at Heavy Duty Aftermarket Dialogue in Grapevine, Texas.
"Some of the more unique things I think we've discovered is we've had to work with everybody from municipalities and electric companies to make sure we have enough power to do it. There's also [the matter of] how we transact in that space. What I mean by that is when you charge a truck and it takes $100 to $200 worth of electricity to charge it, how do we transact that. Those are some of the things we have to cover as we go along," Eppes said.
In preparing for the evolution of trucks, Bill Black, president and CEO, National Fleet Management & Heavy Duty Truck Supply, said his company ordered two EVs, a Rivian and a Tesla.
"We want to get our hands on them and just get familiar with them," Black said. The other thing we're doing is there's a local community college that has some courses on EV that we plan to send our trainer to."
There is a concern in the industry about rumors that instead of 30,000 serviceable parts on a diesel truck, there's only going to be 8,000 parts on an electric truck and those parts are going to be proprietary and expensive.
"We're all trying to figure out what the repair and replacement is going to look like and what it's going to mean to the business. We don't think it's going to change overnight. I think we have years of seeing this transition occur," Eppes said.
"But what we are trying to figure out is what the behavior of the customer is going to be like in terms of their expectations for service. Today, they bring vehicles into the shop, we fix them in a traditional bay, maybe some mobile service. Is that going to [change], where it's less about brick-and-mortar bays and more about mobile? Is it going to change the expectations from a customer standpoint of where the vehicle gets repaired? Those are the things we're trying to work through now," Eppes said.
When asked whether electric trucks are being embraced, John Nelligan, senior vice president, Meritor, said, "I think if you're a fleet in North America today you're going to operate around the fact that you see this coming. You see the legislation and a lot of people would rather try [electric trucks] on their own terms right now and they're buying 1, 5 or 10 now [versus] when they have to buy 500 or 2,500."