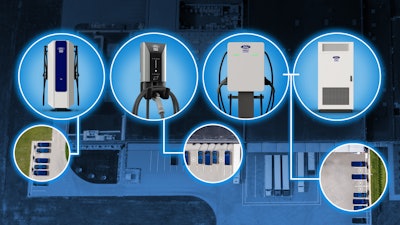 Ford Pro has added six home and depot chargers to its end-to-end portfolio of charging solutions to help create a smooth transition for commercial customers into an electric future. The new solutions were announced Tuesday during a press event at the NTEA Work Truck Show in Indianapolis.
Ford Pro says its new chargers offer a wide range of charging hardware – from home chargers to large-scale depot charging systems – all backed with integrated installation, software, service and Ford Pro FinSimple financing
"We are investing heavily in products and services to help commercial customers accelerate into an electric future, which means helping to ensure our hardware and software can plug and play with other manufacturers, as we know many customers operate mixed-make fleets," said Ted Cannis, Ford Pro CEO. "These chargers can be completely customized to unique commercial environments and can work even better when paired together with Ford Pro electric vehicles and telematics to enable OEM-grade data transparency."
The new charging solutions also are being launched alongside the all-new 2022 Ford E-Transit, shipping to dealers now and the all-new 2022 Ford F-150  Lightning Pro, which is slated to start arriving this spring.
During its announcement Tuesday, Ford Pro North America General Manager Tim Baughman said the company's new charging solutions will hopefully address concerns found in the fleet space around electric vehicle adoption and charging. "We need to make the transition to electric easy," he said. Between the company's new charging solutions and the growing Ford Pro intelligence suite of digital services, Baughman said the Ford Pro ecosystem will be able to save customers 10 to 20 percent in total operating costs.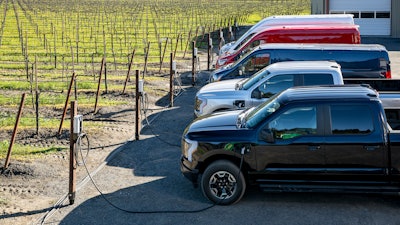 "It starts with sitting down with our customers to learn their business and how they plan to use their electric vehicles," added Muffi Ghadiali, Ford Pro Charging general manager. "Regardless of the size of their business or the industry they are in, we'll help them plan their charging infrastructure – whether it's installing home chargers for employees or developing a large-scale depot system – to make the transition to electric seamless."
Once the charge systems are up and running, Ford Pro says it will continue to support commercial electric vehicle customers with Ford Pro E-Telematics and cutting-edge Ford Pro Charging software solutions so fleet managers can better track their fleets. This includes software for smart charging, pre-conditioning, remote monitoring, reimbursement management for home charging, and reporting to help save on energy costs, maximize vehicle efficiency and uptime, the company says.
"Ford Pro is the only commercial services provider in North America to offer a range of services to help customers truly benefit from the advantages of going electric, including maximizing fleet efficiency and lowering costs, along with ongoing vehicle and charger maintenance," said Ghadiali.