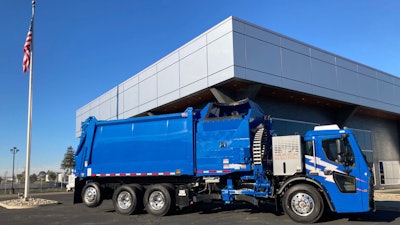 Mack Trucks announced Tuesday TEC Equipment in Oakland, Calif., is now a Certified Electric Vehicle (EV) Dealer and will now be able to service and support the Mack LR Electric refuse truck. 
The announcement was made during Mack's press conference at the Advanced Clean Transportation (ACT) Expo this week in Long Beach, Calif.
This is the third TEC Equipment location in California to be EV-certified. The first was Fontana and La Mirada was the second. TEC Oakland also is a Mack Certified Uptime Dealer.
"TEC Equipment continues to invest in the infrastructure and training needed to support electrification," says Jonathan Randall, Mack Trucks senior vice president of sales and commercial operations. "TEC has proven its commitment to e-mobility, and Mack is proud to work hand-in-hand with them as we partner to achieve sustainability goals."
Mack says its EV certification requires dealerships to meet numerous stringent infrastructure, safety, charging, tooling and training requirements. Updating the facility is also required. TEC met frequently with the Mack team during the process to ensure they met all standards to be EV-certified. TEC Oakland, located at 8099 S. Coliseum Way, has 18 service bays, with three of them dedicated to electric vehicles. The location has 12 technicians, six of whom are master techs, and two of whom are EV-certified. The 45,000 sq.-ft., site on 6.5 acres offers $2.3 million in parts inventory, with more than 22,500 parts in stock.
"We are committed to being the best business partner for our customers, no matter what that looks like," says Chris Thompson, TEC Equipment dealer principal. "For our Oakland market, that meant supporting our Mack LR Electric customers by becoming EV-certified as quickly as possible. Our Oakland store and service staff stepped up to the challenge, and we are seeing a strong demand from a number of municipalities and refuse customers in particular.
"We will continue to seek out ways to deliver the best in our service and equipment offerings, and Mack remains a committed and active partner in that endeavor."